Fire destroys 'Bohne Building' at museum
Posted on September 22, 2015 by Sunny South News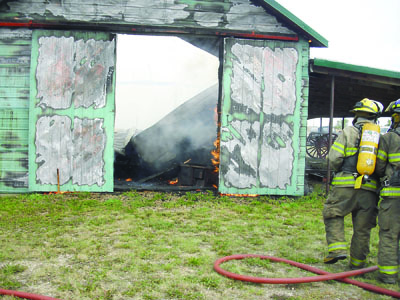 Coyote Flats Pioneer Village
On Sept. 18, one of the heritage buildings at Coyote Flats Pioneer Village at the Prairie Tractor and Engine Museum near Picture Butte burned to the ground, according to a media release.
It was stated, the building was used as a storage building, and was not open to the public, nor did it house any permanent displays.
Unfortunately, there were four horse-drawn carriages stored in the building, and the carriages, as well as the building itself, were a total loss.
"The Bohne Building was used as a storage building, and was of lower importance when compared to our other heritage buildings," said Pieter van Ewijk, general manager.
"That said, the loss of any heritage building is devastating, and neither the building nor the carriages are likely replaceable," he added, in the media release.
Due to the difficulty in obtaining insurance coverage for historical buildings and irreplaceable artifacts, the loss is not covered by insurance.