Harder's Conservative campaign
Posted on September 29, 2015 by Sunny South News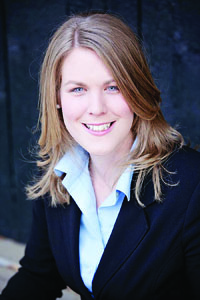 By Dave Mabell
Southern Alberta Newspapers
She grew up on an Alberta farm, but she seized the opportunity to speak with Canadians right across the country. But now, Rachael Harder is focusing on Lethbridge-area voters in hopes of becoming their next Member of Parliament. She's been campaigning since winning the Conservative nomination last November.
Harder, a graduate of the University of Lethbridge, traces her interest in politics to her days in high school near her home near Kathyrn, northeast of Calgary. That's when she met legendary Conservative MP Myron Thompson.
"He was a grassroots gentleman with his white cowboy hat and boots," and he became her mentor.
"He took me under his wing," and soon, Harder was meeting others with her same passion for political life. The question, she said, wasn't if she'd seek office — but when.
That opportunity arose when the boundaries of the Lethbridge constituency (and many others) were revised. After discussion with Conservatives here and in Ottawa, she launched her successful bid to succeed Jim Hillyer, now running in the expanded Medicine Hat riding.
In the months since, Harder said, she's visited many of the nearly 40,000 homes in the city and adjacent communities.
"I've been hearing a lot about the economy," she said, "People are concerned about stability — about making sure they have a job."
"That's the number one thing," and Harder believes the Conservatives are in the best position to ensure that.
Voters are also supportive of the governing party's plans for a monthly child-care cheque, and tax-free savings for Canadians in the senior years.
Getting out and meeting voters face-to-face is the key to representing them and their issues, Harder pointed out. She plans to take part in several political forums between now and election day.
"Forums are an opportunity for candidates to speak at people," she maintained.
"Engaging people at a meeting is an opportunity to speak with them."
That's the situation Harder experienced several years ago, when she was asked to take on a study of young Canadians' attitudes toward the churches they attended in their youth. "I travelled sea to sea to sea," meeting young adults in all parts of the country.
The results were published in 2012 with Harder as co-publisher, and since then she said she's been working as an independent consultant. Her work was subsequently recognized by Briercrest College in southwestern Saskatchewan, where Harder was honoured as its "Young Alumnus of the Year."
While Harder enjoys research and study, her farm family background means she's also ready to roll up her sleeves and work. From the time she was 11, she said, she ran a business breeding and selling cockapoo puppies.