TANGO Foundation from Taber visits St. Joseph's School in Coaldale
Posted on September 29, 2015 by Sunny South News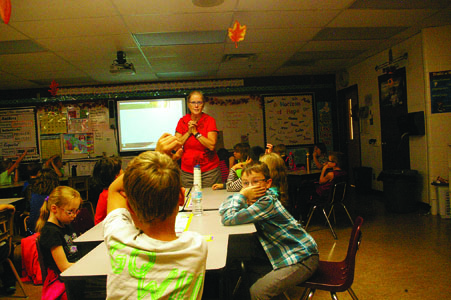 By Stan Ashbee
Sunny South News
Grade 3 students in Dianne Brodie's class at St. Joseph's School in Coaldale had a chance to learn about Peru last week — as Connie Gross, a volunteer from Taber involved with the TANGO Foundation paid a visit to chat about a new project between the class and the Taber-based initiative. The Grade 3 students in Brodie's class will create books about their lives in Alberta to share with children in their partner school in Peru. TANGO or Taber Assisting Nations through Global Outreach is a service project providing medical and educational support in Cincha, a city south of Lima, according to Pat Mastel from St. Joseph's School.
"I'm going on a very exciting trip for my very first time to Peru and I understand you folks are learning all sorts of things about Peru," said Gross, as she delivered a presentation about her upcoming trip.
She also handed out coins to students to see first-hand what currency looks like from Peru. The students were eager and began asking questions about Peru and the trip.
Gross told the Grade 3 students she was going to bring a list of questions from the class with her on her trip to get answered by students and others in Peru.
"I will find out the answers and bring them back for you," she added.
Over 70 volunteers of all ages from 14 years of age to volunteers in their 70s, Gross noted, were going on the upcoming trip.
"Most of them are doctors, nurses, dentists, lawyers, dental hygienists — we have all sorts of people going. We have farmers," Gross said, including a couple from the Coaldale area. "Their kids used to go to St. Joseph's."
TANGO, according to Gross, will mostly provide medical service including eye surgery.
"That's the things the doctors will be doing," she said, adding the foundation will also be bringing surgical beds and leaving them there.
In Canada, Gross explained, if a person needed to get their eyes examined and worked on, they would just pay a visit to their doctor.
"But in places like Peru, it's not always easy to go to a doctor when you're sick. This group is going to bring a clinic down there. They're also going to work with an orphanage and build part of a kitchen. Can you imagine, they don't even have a big kitchen? And, there's over 100 girls from ages six to 14 living in this orphanage and they even need help building a kitchen, so they have a good way to cook their food," said Gross.
For Gross, the most exciting part is hearing the students' stories about what life is like for each student in southern Alberta. Gross and Brodie began taking down a list of student questions.
"I'm going to try and talk to the kids in the orphanage and share your stories and get their stories back, so when I come back, we talk about what their life is like and how it compares to your life," Gross added.
Gross said, she personally, will also be bringing down a bag full of soccer balls for the kids, school supplies and other items.
"We're bringing whatever else we can pack. We each get two big hockey bags to put underneath the plane and there's 70 of us," said Gross, as she asked the students how many hockey bags would be on the trip. After a few guesses, one of the students said 140.
Gross asked students what they wanted to know about Cincha when she visits next month and some of the questions were — What do the houses and schools look like and what are they made out of? Do they have school supplies? One student even asked if there were any giants there? And, another question was what do they eat and drink?
Gross and the TANGO Foundation will be heading to Peru Oct. 16 until Oct. 26.