Barons and District Fire Association's Masquerade Party Oct. 24
Posted on October 6, 2015 by Sunny South News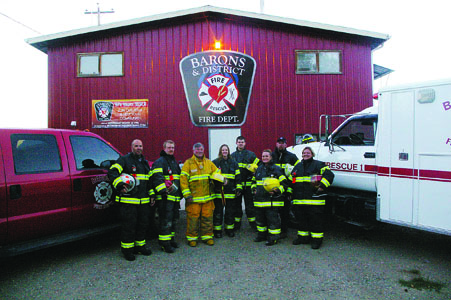 By Stan Ashbee
Sunny South News
Village of Barons Fire Chief Byron Fraser said the department currently has nine dedicated volunteer members. "We could always use more. It's comfortable, the nine," he noted. Medical calls this past summer, Fraser said, were up and down as usual. "We'll have a spurt when we do a bunch and then sometimes two to three weeks before we have anything again," he said.
Fire-wise, according to the chief, it was a slow summer. "It hasn't been an overly busy summer."
Fraser said the department has two EMTs and five MFRs, which is the program Alberta Health Services (AHS) has come up with. "They're EMR level but we don't have to pay for them to register with the province every year," Fraser added.
Right now, Fraser said, the department is looking at securing a new quick response command unit. "We're getting close to be able to purchase that. We need a new engine. We're hoping next year we're going to purchase another one. Otherwise, all our other stuff, we've been keeping pretty up to date," said Fraser, adding the department also received new gear this year.
Fraser added the department also utilizes the Active 9-1-1 app many departments in the area are adopting.
"I like it for the fact when I am on my way I don't always hear the whole details of the call or whatever and you can check it out on your phone. It gives you all the details," he said. It's definitely handy, Fraser said, and some volunteers don't have their radios on them at all times but usually do have their phones. "It gives them another way of being paged out," he said.
Currently, Fraser explained, the department is only contracted for the village but in 2016, according to Lethbridge County, the department will be starting new negotiations. "Right now, we're being audited by the Office of the Fire Commissioner just so they can prove we're up to what we say we are," said Fraser.
Fraser also said soon the entire department will be certified Level One firefighters. "They've put a lot of work into it." Later next year, Fraser added, the department will start training for Level Two.
The Barons and District Fire Association is also hosting a Masquerade Party Oct. 24 at 8 p.m. at the Barons Community Centre featuring live music with The Raw Dawgs from 8 p.m. to 12 a.m. There will be a midnight lunch, raffles and a silent auction. Funds raised will go to the quick response vehicle. Get tickets from any fire department member or at the door.