Coalhurst Emergency Services is going digital
Posted on October 6, 2015 by Sunny South News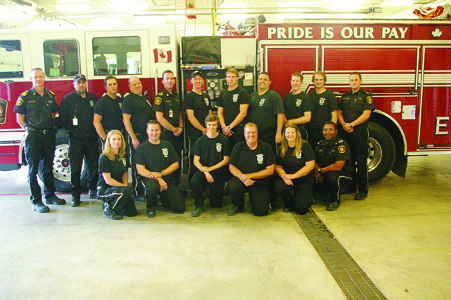 By Stan Ashbee
Sunny South News
Right now, Coalhurst Emergency Services isn't at full capacity volunteer-wise. According to Fire Chief Mathew Conte, the department currently has 22 members but has room for 26.
"We're going to be looking for four members right away," noted Conte.
Conte said this past summer was very quiet for the department.
"Call volume is actually down over the summer but not looking too bad right now. We're probably on base for an average year," he added.
Currently, construction is just about complete on Highway 3 at the troublesome intersection leading into the Town of Coalhurst.
"It will be nice. The intersection is getting work done right now. I think most of the work to the intersection is done. Now, it's just a matter of waiting for them to come through and resurface the entire road on Highway 3. It's definitely pushing it over more and going to give the deceleration lane a lot more room. It'll be tighter to the tracks — now when people are sitting at the stop sign to leave onto Highway 3 you can actually see past those vehicles onto upcoming traffic. They've actually expanded the acceleration on the opposite side too, to make it a lot longer," Conte explained.
Communication-wise these days, the department is making the switch to digital communications.
"We're in the process right now. We've made our first purchase of our first handful of radios."
"And then it's a matter of working with the province to get set up on the digital system and then going into a testing phase with them just to see how it is," Conte said.
He added most likely the department won't be fully up and operational on digital radios and dispatching until the first quarter of next year.
So why the switch to digital communications in Coalhurst? Conte said, after testing the digital radios, he found them to have more clarity and the radios are louder than the equipment currently in use at the department.
"You're able to hear a lot better. The transmit function on that to, they've got noise-cancelling built into the mics. Now, there's no wind feedback or other noises coming around. It's a very clear voice communication, which is going to improve safety for traffic operations out on the highway. To be able to hear what's going on," Conte said.
As for purchases for the department for the remainder of the year, Conte said — just coveralls, boots and gloves until next year when work will begin on new interim budgets. Conte also noted the department is just finishing up finalizing a contract with the county for emergency services.
"It's supposed to be retroactive to Jan. 1 — we're a little slow hashing out a few minor details but both parties have approved it and we are just waiting for some signed documents now," he said, adding there wasn't really a lot of changes from the previous contract.
"Just a little bit of tweaking here and there. For the most part, we'll be back up and good to go for another five years."
During Fire Prevention Week, Conte said, the department will be reiterating to kids the importance of smoke detector awareness, which includes getting kids to get on the parents' cases to make sure they are checking smoke alarms and replacing batteries every six months.
"Trying to get kids to take part and do fire drills at home. Listening to the smoke detector — knowing what it sounds like and how it works," said Conte.