NDP's Cheryl Meheden is Lethbridge candidate
Posted on October 6, 2015 by Sunny South News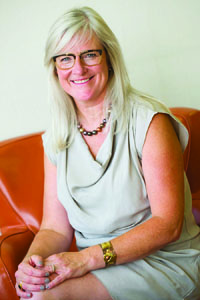 Lethbridge Herald photo by Ian Martens Cheryl Meheden is the NDP candidate for the Lethbridge riding in the upcoming federal election.
By Dave Mabell
Southern Alberta Newspapers
She's been an educator, writer, speaker and entrepreneur. Now Cheryl Meheden is aiming at a new challenge — Member of Parliament for Lethbridge.
A life-long Lethbridge resident, Meheden has spent the last several years door-knocking and campaigning on the issues raised by federal New Democrats.
After celebrating her two provincial NDP colleagues' victories this May in Lethbridge, she redoubled her efforts when the federal Conservatives launched Canada's longest election campaign in more than a century. The Lethbridge riding includes Lethbridge County.
"There are a lot of newly engaged voters," she reported. Many Albertans now have a sense of hope. "They see that change is possible."
Part of that change, she said, is the growing involvement of First Nations voters.
"Lethbridge has a high proportion of indigenous people," and they don't see the Conservative government taking action on their concerns.
"They are organized and they are demanding to be heard."
What many voters want action on, she said, are such vital concerns as child care, seniors' pensions — and good jobs at fair wages. As a business owner, having opened the Urban Grocer store several years ago, she also emphasizes the importance of job-creating incentives for small business.
As a past president of Economic Development Lethbridge, she's quite aware of the challenges and opportunities awaiting local and start-up businesses in Alberta.
"We need to be creating and protecting good local jobs with targeted incentives for small business, and smart investments in community infrastructure."
For New Democrats, she added, this election's key issues also include repealing Bill C-51 — the government's much-criticized "security" law restricting Canadians' travel abroad — and Bill C-24, allowing a bureaucrat to strip away a Canadian's citizenship without legal representation or due process.
"When we look at the number of newcomers in our population, I don't think anyone would want to be monitored by this government."
A college and university instructor, Meheden is also the mother of three — and she's predicting some parents will be shocked to find the cheques they receive from the government's much-vaunted child benefit program will be clawed back when they pay their income tax next spring — if Harper is re-elected.
For older citizens, she added, a New Democrat government would act to strengthen the Canada Pension Plan and to protect workplace pension plans.
At the same time, it would cancel a $36-billion cut in federal support for Canada's health system, which the Conservatives have announced will begin next year.
While this is one of the longest campaign periods in Canadian history, Meheden said Lethbridge-area volunteers are excited by the response they're receiving.