Dyspraxia awareness
Posted on October 27, 2015 by Sunny South News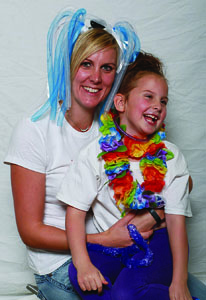 By Stan Ashbee
Sunny South News
Earlier this month, a dyspraxia awareness day was held at St. Catherine's School in Picture Butte. Seven-year-old Megan Van Diemen, a Grade 1 student, was diagnosed with dyspraxia — a developmental co-ordination disorder, which is also called the hidden disability. Megan's mom Jose organized the awareness event which featured a photo booth, activities and a presentation to students. Van Diemen noted dyspraxia is uncommon and people seem to be unaware of the disorder — which Van Diemen hopes to change. Dyspraxia also afflicts both children and adults and it is a life-long diagnosis. "It went really, really well," Van Diemen said. "The feedback I got was the kids realized it was really difficult to do some everyday things Megan struggles with. Even from teachers and adults that participated — there was quite a bit of insight and a lot of things they just weren't aware of at all," she added, which was one of her initial goals.
Media coverage at the event and keeping up-to-date information on her Facebook page is what will keep Van Diemen busy moving forward and most importantly — to get the word out about the disorder. "This is a great start for it. A lot of this will be on my Facebook page — all the news coverage that was there. Including the You Tube presentation we had," Van Diemen added. The link to Van Diemen's Facebook page is http://www.facebook.com/dyspraxiacanada. The following is a link to a You Tube presentation from the awareness day event: https://youtu.be/G1m9ZYhVf8U.
For now, Van Diemen hopes to eventually get out more pamphlets, posters and cards to places such as pediatrician offices and other doctors' offices. "Where these children would come, so they would know where to reach out to. It's for me to get the information out, so people can reach out to us and we can provide support and information that way," she said.
She also plans to post weekly to her Facebook page. The first few weeks will be about this event and possibly some of the activities we covered, so others not present could see what we did. From there on, I hope to make weekly posts with some research or information and go that way. For now, it's more awareness but if it goes further then we'll see what happens. But for now, just step by step," Van Diemen said.
Van Diemen is really grateful for the school and all the people who lent a hand with the project. "It wasn't just me by myself. I am very grateful for all the support I have received so far. I've had some great feedback from other people on the Internet and on Facebook. A lady who has a daughter, who is 23, reached out to me and said this makes complete sense. Someone from northern Alberta reached out to me about information because there's two kids up there that have it. And there's also an organization that's called Feel Better Friends that reached out to us, that's going to make a look-a-like doll for Megan. It's for kids that have illnesses or long-term life-long disabilities. That was pretty exciting to come out of that already and I just hope it continues and grows," said Van Diemen.