For the love of wolves
Posted on October 27, 2015 by Sunny South News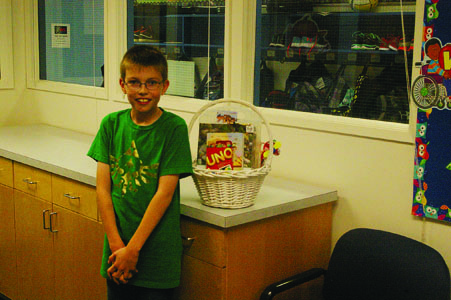 By Stan Ashbee
Sunny South News
Kolten Bezooyen, from Dorothy Dalgliesh Elementary School in Picture Butte, is becoming quite the junior philanthropist. The Grade 5 student is presently raising funds for Earth Rangers through a raffle to win a gift basket and two mystery envelopes. The initiative runs until this Friday, as Bezooyen hopes to raise $250.
"I'm raising money to help the Eastern Wolf and all the money goes to Earth Rangers. They're going to buy a tracking device, called a GPS satellite collar," said Bezooyen.
Simply put, Bezooyen loves wolves.
"Me and one of the Grade 7'ers last year, we talked about saving animals and I got into Earth Rangers," Bezooyen noted.
According to Bezooyen, the gift basket is filled with a variety of prizes including a puzzle, a book and candy. This is the first time Bezooyen has organized a fundraiser for a great cause.
Tickets are $1 for one ticket or $3 for five tickets. Tickets are available at the school.
"I think this shows such initiative, compassion and an awareness of global and environmental issues, I think it should be commended," said Shari Rogerson, principal of the school.