Careers at the forefront at CCS
Posted on November 24, 2015 by Sunny South News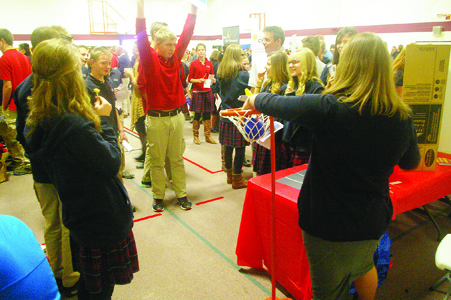 By Stan Ashbee
Sunny South News
Students from Grades 9-12 at Calvin Christian School, located between Monarch and Coalhurst, took part in the school's third career fair last Thursday morning.
"I think it looks like a great success. A lot of the students are making some good connections and hopefully planting some seeds, as to what they might want to choose as a career or at least get involved in, in the future," said career counsellor Marvin VandenHoek, during a break from the career fair last week.
According to VandenHoek, there were 44 exhibitors from various careers involved in the fair.
"We have a variety of professional occupations here — accountants, lawyers, optometrists, a chiropractor and then some of the varied trades. We try to get a bit of a cross-section of the different careers available and give the students a chance to explore," he added.
VandenHoek noted the school will try to hold a career fair every two years moving forward.
"It's a fair bit of organization and it's also asking a lot of people to come out for a whole morning. Every two years is kind of nice that way. The Grade 9s who see it this year will see it again in Grade 11 and the Grade 10s will see it in Grade 12," he said.
Invariably, VandenHoek said, the students love the career fair at the school and make a lot of good connections.
"Of course they're always a little shy but they get around and they talk to people and they really enjoy it. And besides, they get to get out of class for a bit," he joked.
Aside from the career fair, Calvin Christian School students also spend time in Grades 11 and 12 exploring what their skills are, what their interests are and what the opportunities are for them.
"We go to a lot of days like Student For A Day, where students can go to Lethbridge College or the University of Lethbridge and see what the program is like they're interested in. We have a pretty extensive off-campus program, where students can do work experience and they can go volunteer or even get paid to get credits," VandenHoek said, adding there's also a registered apprentice program, which is also quite successful in helping students to find jobs in the trades.
Even though there has been talk of a downturn in employment around the province, VandenHoek hasn't seen it locally.
"It seems to me the ag industry kind of keeps the economy going here. We still have lots of students that are getting jobs in the trades. It seems to be quite strong," he said.
It might be a little bit more work for students to find jobs around southern Alberta, VandenHoek said — where students can't just walk into a trades job but generally if students want to be a plumber, for example, it's usually possible for them to find something, he added.
"I always encourage them. If you can't find something, go volunteer for a while first. If you want to work in a bank, do some volunteering. If you prove yourself well, they'll probably hire you sometime or at least you'll get a good letter from them or some networking," said VandenHoek.
Picture Butte ATB Financial Branch Manager Katie Forster was one of the exhibitors at the career fair, which she believes had a great turn out. "It's my first time here," she said.
Forster said students were asked what do you know about a bank? Or, tell me a little bit about banking. "One girl said, 'well I know I want the money,'" she joked.
ATB was on hand to offer advice and to let students know about job shadowing opportunities or work experience.
"Some of them are interested. They take a business card or they take a profile. We have job descriptions from customer service representatives to personal banking specialists or relationship manager — they can take those profiles and ask questions," Forster added.
Junior ATB has also provided younger kids with information and an education, in regards to banking and finances.
"This is just one other level of Junior ATB — work experience or a job career fair. Junior ATB is Grades 4-6, who run the Junior ATB programs and here you have Grades 9, 10 and 11, now they're looking at the real-life situation. But even Junior ATB, my hope is, the more we do Junior ATB in the schools, they'll get a little taste of it in Grades 4, 5 and 6 and then come Grades 9, 10 and 11, they can absolutely come to ATB and spend a day or spend a few hours if they wanted to, just to see what it's about. They can do a quick dive into — what does it look like cashing a cheque? That experience. Or paying a bill or what does it look like when you create a new loan for a customer?" said Forster.