Beacham's Christmas Village lights up the holidays
Posted on December 1, 2015 by Sunny South News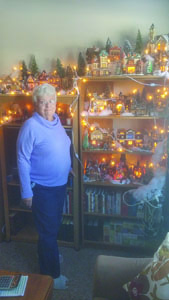 By Stan Ashbee
Sunny South News
To borrow a few lyrics from one of Christmas' all-time classic carols "Silver Bells" — "City sidewalks, busy sidewalks, dressed in holiday style" in Norma Beacham's home is a feeling of Christmas.
Beacham resides in Coaldale at the Sunny South Manor and is surrounded by the ultimate Christmas Village — 52 major pieces in her present collection, a collection which grows with the tradition and addition of a new piece each year.
This year, a chocolate shop was added and even a vintage-looking Wal-Mart shop is included in the festive villa, where she once worked. The entire village, Beacham noted, reminds her fondly of growing up in West Vancouver during the holidays.
Beacham has been putting up the seasonal collection, on and off, for the past 35 years.
"It's not all the same because I've made villages and give them to my kids. This will be considered the third village, I suppose I've had. There's still some pieces there from the original 'Dickens.' I had a 'Dickens Village' I bought from Perma-Green 35 years ago. It's been that long and there's still some pieces in here from that. There's one high-rise building there and then there's the ski lodge on the top — those buildings come from the original 'Dickens' set," she said.
But, Beacham added, everything else has been changed and added to. "It's a thing I really enjoy the most. Christmas trees are lovely but I like my village. It makes me think of West Vancouver," she said.
According to Beacham, her lit up collection has always reminded her of going across the Lions Gate Bridge at Christmas time with lights lighting up the mountain.
"This is basically how I've done this," she added.
Aside from the 52 major pieces, which are houses, there are little people sets too.
Beacham said it usually takes about two days to set up the beautiful illuminated display, complete with fake snow. "I clear and fall clean at the same time," she joked.
Beacham noted she doesn't have much storage space in her home except the space she has set aside for her annual collection when it goes back into boxes after the holidays.
Beacham loves Christmas, she said.
"Christmas for me — I belong to the Anglican Church and it's a very special time of the year," said Beacham, adding she has lived in Coaldale since 1979.