Food bank down in sponsors
Posted on December 15, 2015 by Sunny South News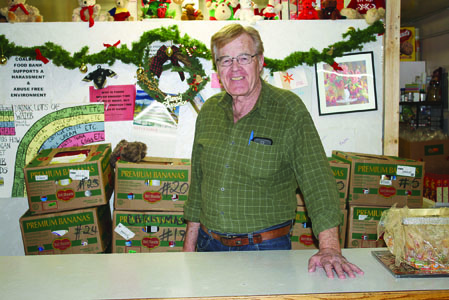 By Stan Ashbee
Sunny South News
Ebenezer Scrooge had a tough time giving to those less fortunate during the holiday season. It took visits from his ghosts of Christmas past, present and future to remind him of what is truly important in life and that is helping those needing a hand.
In Coaldale, residents are anything but a Scrooge. Time and time again and year after year Coaldale residents have stepped up to the plate to give, rather than receive and it hasn't gone unnoticed.
Vaughn Caldwell, from the Coaldale Food Bank, believes Coaldale is a very giving community.
"We really appreciate everything we get and we're always good custodians of what we do get and make sure it goes as far as it will go," said Caldwell.
Sadly, the local food bank is down in numbers for sponsorship, which could use a local infusion of donations — monetarily or with items.
Sponsors for fully-sponsored families, Caldwell said, is down from last year. Last year, there were 26 sponsors to this year's 21 sponsors. As for food bank sponsored hampers, where the food bank serves clients right out of the food bank, Caldwell said last year there were 105 sponsors the week leading up to Christmas. This year, there are only 46 sponsors leading up to Christmas. "We're down a long ways."
"For our donations, as far as what would go towards our operating expenses for the next 12 months, we're down compared to last year — we're down $10,500. But, we're hoping," he said, adding there is still more time until Christmas arrives.
"We're hoping people will come in and make donations that we need to carry on," Caldwell said. He added any donation denomination could help with operating costs, which includes paying the rent and utilities.
At Christmas time, Caldwell noted, 60 per cent of the money the food bank uses for operating for the next 12 months comes in at this time of year. "Otherwise, it just doesn't come in. Of course, it's important to get sponsorship for the rest of those families we need to deliver hampers to. Otherwise, we're depleting our stocks if we would use further into next year to fill these hampers. We do need the support of the community. I'm sure we'll get it," he said.
The food bank, Caldwell said, usually gets donations coming in that don't necessarily go to Christmas hampers and will go into stock instead. "We use that for the coming months."
With recent tough economic times for families throughout the province, many families rely on their local food bank to get by month to month but luckily Coaldale isn't feeling the pressure, as other communities are.
"We don't have a whole lot of growth here. We're not affected that much like Taber. With the oil being down like it is, Taber's an oil community, this is more of a farming community. We're naturally not affected perse, all that much. It could come because it seems to take a while to come down the line. The downfall in the economy eventually affects everybody," said Caldwell.
One thing that remains apparent each and every year is community support — as food, toys and money donations are given to the food bank throughout the year.
"We're getting support from a wide-range of private individuals to clubs to businesses that are helping to feed the pipeline," he added.
Christmas hamper delivery started last week.