Peter Martens turns 103 years young Dec. 30
Posted on December 15, 2015 by Sunny South News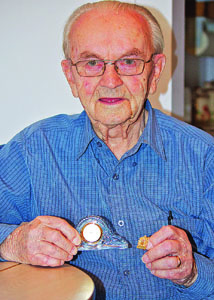 By Stan Ashbee
Sunny South News
He's three years over a century young — Coaldale resident and long-time business owner Peter Martens celebrates his 103 birthday on Dec. 30. And, he's as sharp and friendly, as a young whipper-snapper.
Peter's son is Bill, a Town of Coaldale councillor, who shared his fond memories of his dad prior to his father's birthday milestone.
"My dad, when he was a kid, I think they moved here when he was 11. They emigrated from Russia. My grandfather opened a general store," Bill said, adding it once sat where Coaldale Insurance resides now on Coaldale's main street.
Bill also added when his grandfather retired, his dad and uncle built the building right next door, which is now home to Dance Images.
"They ran that together for 20 years and then my cousin John and myself took over. We built across the street where Wally's Pizza and the pharmacy is now. At that particular time, they (parents) moved to B.C. and they retired there and then due to my mom's health issues, they moved back here 10 years ago," Bill noted.
Peter lives at the Sunny South Lodge and his wife, in her late 90s, lives across the street in long-term care but Peter makes the trek over to see the love of his life every chance he gets. "He still walks across the hospital to visit mom, pretty well every day from the lodge," Bill said.
During the time Peter and his uncle owned the hardware store, Bill said, customers would come in and give his dad or uncle a list of items and his dad or uncle would take a ladder and fill the customer's order. Simpler times, in simpler days in the small town of Coaldale.
"They lived in town here, they had their business, they raised their family here. I've lived in Coaldale all my life. I was born here, raised here and I will probably die here," Bill joked.
Peter said he originally lived in Coaldale for 39 years, moved to B.C. for 36 years and then moved back and has lived in Coaldale for 11 years. He also noted back in the day the two brothers owned a grocery store, a dry goods store, a hardware store, a lumber yard, and an insurance office — all in Coaldale. Peter said he and his brother got along great over the years in business together and they eventually sold the businesses to their kids. Peter noted his very own father started the store in 1946, before Peter and his brother purchased the business. "Everybody charged, groceries and all, from spring to fall," Peter said, in regards to his memories of the store, as he has watched Coaldale grow but there's always been one thing that has remained the same. "The town has never been too busy because we're too close to the city," he said, adding the main competition has always been Lethbridge stores. According to Peter, there was also another grocery store, which had hardware too in town. "Coaldale has been very good to us," he added. Peter also recalled when his dad was in business the roads in Coaldale were mostly filled with horses and only a few cars. Peter joked he has no idea how he's kept healthy and in shape all these years. "God has been good to me," he said, and he has no aches or pains.