Coaldale RCMP ready to police
Posted on January 5, 2016 by Sunny South News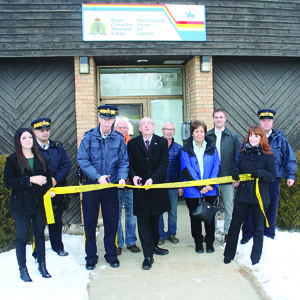 By Stan Ashbee
Sunny South News
Yesterday, the Coaldale RCMP temporary detachment officially opened with a ribbon-cutting. The detachment is located at the town office. The official transition from Lethbridge Regional Police Service (LRPS) to RCMP happened on Jan. 1.
"On New Year's Eve and New Year's Day the transition went fantastic," said Staff Sgt. and Detachment Commander Glenn Henry, after the informal ribbon-cutting ceremony.
Henry said the new detachment will combine Coaldale and the Lethbridge rural detachment to service the area.
According to Henry, the plans are in place for a new RCMP detachment building. An Edmonton-based architect firm is working on the project.
"We have really little control over the timing of the new facility to be built. We know it's going to be on the east side of town," he noted.
Town residents can call 9-1-1 in an emergency or if it isn't an emergency residents can visit the temporary location.
Coaldale Mayor Kim Craig said it's been a few years since the town made the decision to go with the RCMP for community policing.
"It's really great to see it culminate into the grand opening of the temporary location," said Craig.
Craig pointed out there will be close to 16 officers coming and going in and around the community.
Craig believes policing services will be somewhat similar as it was with LRPS policing the town with a School Resource Officer (SRO) in place and the various members of the RCMP actively involved in the community. Sunny South News will feature the new SRO in next week's issue.
Craig explained the town will also continue photo radar with the City of Lethbridge.
"We have a contract with them. There may be changes in the New Year, as how we deliver photo radar, but it will remain in the community," Craig said.
Craig said the LRPS provided good service for the past decade.
"Community policing was important for Coaldale," he said.