Ag Society gallops into 2016 with AGM
Posted on January 13, 2016 by Sunny South News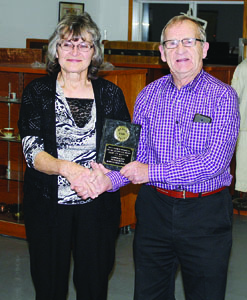 By Stan Ashbee
Sunny South News
Kleeman Hall at Coyote Flats Pioneer Village at the Prairie Tractor and Engine Museum, just outside of Picture Butte, was home to the Picture Butte and District Agricultural Society's Annual General Meeting (AGM) last Tuesday night. The society elected a new executive of officers and directors, presented reports, presented 2015 Craft Country Bench Fair Awards and ate some local vittles.
Elected for the 2016 year and remaining in their respective positions from last term were President Roelof Scholten, Vice-President Everett Tanis, Treasurer Sandra Hergenhein, and Secretary Shirley Kiffiak.
At the meeting, with over 20 in attendance, Karly Groenenboom received the Shirley Stevens Memorial Youth Aggregate Award, Katelyn Brouwer received the bench fair award for Junior 6-8 Years, and Kiffiak was awarded the Dave Parker Memorial Grand Aggregate Award.
Lethbridge County Coun. Morris Zeinstra, Picture Butte town councillors Teresa Feist and Joe Watson and Picture Butte Mayor Wendy Jones were also in attendance.
"2015 was a very good year for the ag society," said Scholten, as the meeting commenced. Scholten thanked society members, partners, and the many volunteers. Presently, the society is in need of new members and volunteers to make 2016 a great year.
Jamboree Days, which includes the society's annual bench fair and a top-notch parade, is one of the main events the society puts on in the community during the summer.
"The parade this year was one of the longest and best we've seen in some time," Scholten noted, adding the Picture Butte and District Chamber of Commerce has taken over parade planning duties.
Without community members willing to volunteer, Scholten said, Jamboree Days would not be a success.
During Kiffiak's report, she noted the Ag Society is the co-ordinator and principal financier of Jamboree Days, along with nine community organizations, the town, members of the Picture Butte Fire Department and more than 180 volunteers. She added the bench fair is also organized and funded by the Ag Society.