Coalhurst Jam returns to the Legion
Posted on January 26, 2016 by Sunny South News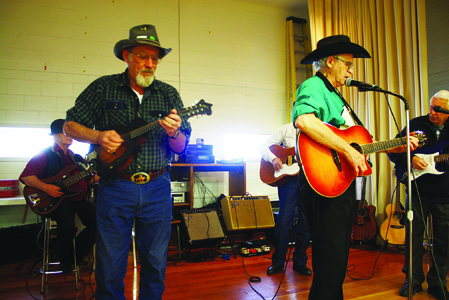 By Stan Ashbee
Sunny South News
Noel Burles is a Coalhurst singer, songwriter, musician and cowboy poet and on Feb. 6 the local multi-faceted entertainer will host a monthly jam session, which will return to the Lethbridge County community every first Saturday of the month at the Coalhurst Legion from 1-5 p.m.
"I left last year in November to go up north to work but now I'm back. I ran it for two or three years," Burles noted, but he doesn't recall the exact amount of time he ran the jams previously. But, the jams were a hit.
A wide-variety of musicians hit the stage during the jam sessions, similar to the Shaughnessy Jam at the Shaughnessy Community Centre held the third Sunday of the month from 1-5 p.m.
"A lot of the same players but some different players. Country, country rock and a little bit or rock and roll," he said, adding there is no cover charge for the event.
Burles said to just come on in, sign the guest book and sit down and enjoy.
"Now that I'm back again, I'm making a CD of my own stuff. I'm going to pursue music hard, for me anyway," said Burles.
Burles' new CD will be released hopefully soon, he said.
"All my own songs. I've been playing on the stage for 51 years, so I have some experience. I just never made a CD. Now, I'm going to do it," he said.
According to the seasoned veteran of the live stage, he has travelled to England and Australia to perform over the years without recording a CD of original songs. But, now's the time.
Burles also continues to travel performing cowboy poetry throughout southern Alberta and abroad. "Saskatchewan, Manitoba and I've been down to the United States. And, I'm going to continue doing that, as well."
"I'm a slow learner," he joked.
Everyone is welcome to come out to Coalhurst for the jam, Burles said.
"The more players, the better."
For more information contact the Coalhurst Legion or call Burles at 403-315-2355.