Man on the moon
Posted on March 8, 2016 by Sunny South News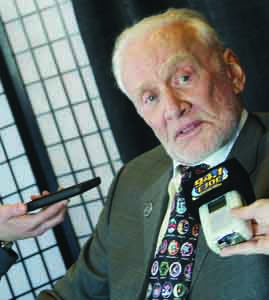 By Stan Ashbee
Sunny South News
He put the "Buzz" in Lightyear. Captain Kirk boasted space was the final frontier on the hit sci-fi TV series "Star Trek" but Buzz Aldrin lived the dream, as he was one of the Apollo 11 crew to walk on the moon in 1969, alongside fellow astronaut Neil Armstrong. Aldrin is indeed a North American space frontier legend and was a guest speaker in southern Alberta recently at the Greatness In Leadership Conference.
Collaboration of countries and commercial activities is what could be a focus of the U.S. space program and others to put resources on the moon, including the robotic assembly of objects on the moon — essential to preparing a permanent base on the planet, according to Aldrin, during a media scrum at the conference. There has also been talk of a space lottery, proposed by various commercial interests, to send residents of Earth to the farthest reaches of deep dark space including the moon.
"Growing capability, so when we send people there they have what they need," he added.
For space exploration to advance, Aldrin noted, the public needs to be behind the ideas and innovation, including the idea of education through a shared space foundation. "The education system needs curriculum," he said. "Getting young people to stay interested," Aldrin said, is key.
That's why Aldrin has written several children's books, which include "Reaching for the Moon," "Look to the Stars," "Welcome to Mars," and "Mission to Mars."
"It's a foundation of building on what was unified space vision," he said. "And we unify exploration science — development, commercial and security — nationally and internationally."
Aldrin said his son has also helped keep the legacy alive with the Buzz Aldrin Space Institute, formed at the Florida Institute of Technology.