Molly Mae Mowing offers the best in vegetation control
Posted on April 26, 2016 by Sunny South News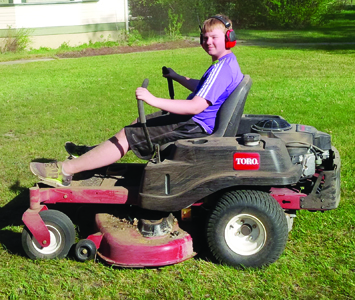 By Stan Ashbee
Sunny South News
When it comes to lawn care in the Village of Nobleford, there's one family that has Nobleford residents and businesses covered.
It just so happens, the home-based business is also operated by Nobleford Mayor Don McDowell and his family, including his 14-year-old son Donavon.
"Our family always lived on acreages until we moved to Nobleford and consequently we had a fair selection of lawn care equipment," Don joked.
According to Don, he started doing neighbours' lawns after moving to Nobleford and he then received a contract to maintain a few local communication towers.
"That probably would have been the extent of the business but then our son Donavon heard about a marine biology trip available through the school and he said he would like to go on this trip. We discovered the cost was going to be about $1,500 and suggested he cut some lawns in order to cover some of the expenses. He agreed and we bought a new push mower and he started doing lawns, with a little help from his mom and dad," Don explained.
Donavon, Don added, managed to get a few regular customers and the business kept growing.
"We formed a company — Molly Mae Mowing — vegetation control. Bought some bigger equipment and expanded the business. The company specializes in acreages and rural business sites plus the communication towers. Donavon still cuts lawns in Nobleford, mainly seniors, plus he now offers power raking, hedge trimming, roto-tilling, yard clean up, trimming, power edging along curbs and sidewalks and even garbage hauls," Don said, adding his son has his learner's licence, so Don supervises and the company also offers a pet poop pick-up service.
Don said the local business has been a good experience for the family.
"We often all work together on the bigger jobs and have learned to juggle schedules to accommodate customers."
Donavon said business starts earlier every year and customers like to show they're proud of their property.
"People like it we are local," added the Grade 8 student at Noble Central School.
The young entrepreneur noted he likes making things look good.
"We bought a new power edger that finishes the lawn off really nice," Donavon said.
Contact Donavon at mollymaeveg@gmail.com for more information.