Cartoonist revisits Kipp's Crossing
Posted on May 10, 2016 by Sunny South News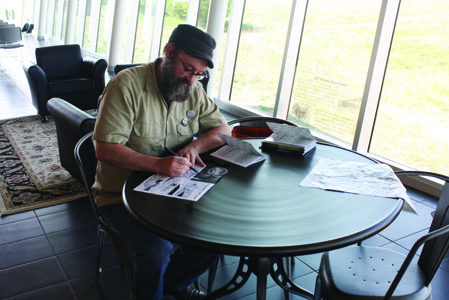 By Stan Ashbee
Sunny South News
It was 1882 — according to local ghost stories comic book "Deathbridge: Tales of the Strange from Lethbridge, Alberta" — when the city's first ferry operator and legendary coal miner Nicholas Sheran met his watery demise, while escorting the North West Mounted Police by ferry at Kipp's Crossing at the Belly River or what is now known as the Oldman River.
Legend has it Sheran was never seen again after that fateful tragic voyage, except for his ghost has been reported as trying to find its way back home by some southern Alberta paranormal eyewitnesses. The book, published this past October, was created by "Slaughterhouse Slough" comic creator Eric Dyck. Just for clarity sake, "Slaughterhouse Slough" is what Henderson Lake was called back in the day.
Dyck's latest collection of stories was released last week entitled, "Back to the Bible Bill Hour" — and is his fifth mini-comic about life in and around Lethbridge. The new tome is a collection of the last batch of comics he posts for free online. "When I have enough, then I put together a little mini-comic," Dyck said.
"'Back to the Bible Bill Hour' comes from a series of comics I've done about Premier William Aberhart, the premier of Alberta in the 1930s. My fascination with him is kind of born from being away, when I was in the Maritimes and realizing not every province had a 'bible belt' kind of living. Central Alberta was my little bubble and I realized what a significant and interesting figure he was. I've been doing some comic explorations, as my research develops, I do a few comics. The comics aren't quite up to his election yet. It's all pre-Social Credit," Dyck said.
Dyck noted he moved to the Lethbridge area in 2013 and he's been busy creating locally-inspired comics ever since. Before arriving in southern Alberta, Dyck lived in the Maritimes with but originally hails from Alberta.
"I was sending comics home about all the weird and wonderful things I was seeing. When we found we were relocating to Lethbridge, I would want to try and have the same eyes. I wanted to see what everybody here was taking for granted. What an outsider or someone far away would find really exciting, weird and interesting," he explained, adding he's been working as a freelance cartoonist and illustrator for the past 10 years and he's been posting his comics online since 2007.
Belinda Crowson, historian at the Galt Museum and Archives, noted one of the best ways to find out more about Kipp's Crossing is to visit the archives and research the Urch Halfway House. In doing so, information can be found including an excerpt from the historical and local book "Sons of Wind and Soil" from the Nobleford, Monarch History Book Club.
It read, "This was stopover house, often called Halfway House, built by W.H. Long and Richard T. Urch, an important rest stop for travellers between Lethbridge and Fort Macleod, near the point where a ferry took them across the river."
Comics, Dyck added, is how he expresses himself and tells stories. "One thing I've really enjoyed about Lethbridge is, as I've been here a while, people are realizing who I am and what I do and they're coming to me with their stories. Stories where maybe they don't have an outlet for. I'm a way they can share that story," said Dyck.
"By having pictures and words together, I am able to make it a little more tangible or depict some backgrounds or textures that may give a little more insight into a story," he said, adding just from a sarcastic cartoonist's point of view it can be a refreshing way to see a story.
Crowson, Dyck said, is one of his very valuable resources. "I vet a lot of things with her. I heard this, is this totally not true or is there a reason for a particular urban myth or things like that? Is there some truth to why a story is kind of carried on even if it isn't really factual? She was working with the Lethbridge Downtown Business Revitalization Zone (DBRZ), she had a collection of ghost stories and they approached me about turning some of them into comics, which I was totally on board for. She gave me like 20, so many stories. I narrowed it down to three for 'Deathbridge.'"
Very few people have heard of the Nicholas Sheran ghost story, Dyck said, or the people he asked didn't know how Sheran died. "It turned out to be the most fun out of the 'Deathbridge' comic." A future collection of "Deathbridge" ghost stories could be a reality someday.
With the expansion of pop culture across the globe and with local comic book and entertainment expos in Lethbridge and Calgary, Dyck said, the scene has really exploded.
"In some cases, it's fun and everybody's excited about this thing a lot of us have been excited about for a while but all alone and quiet in the basement," he joked.
"But, I also have found I consider reading comics a form of literacy. It has really increased the number of people who are comfortable reading stories in that way. For a non-fiction comic maker like myself, the more people are comfortable in that medium, means the more people who will see value in what I'm doing," he said.
He added he's been blown away by the diversity of the audience who have embraced his work.
"In part, I think the popularity of pop culture as a movement, is very much a part of them seeing me, not as a novelty," but fans are diving into the stories he's created to find out more.
"It's starting to be accepted as a form of story telling."
Dyck's comic books and colouring book are available in Lethbridge at Kapow Comics, Drunken Sailor and Chapters. For more info visit ericdyck.com.
Not only is Kipp's Crossing featured in one of Dyck's comics, the Alberta Birds of Prey Centre in Coaldale is featured in his latest collection.