Fort McMurray firefighter visits local school
Posted on May 17, 2016 by Sunny South News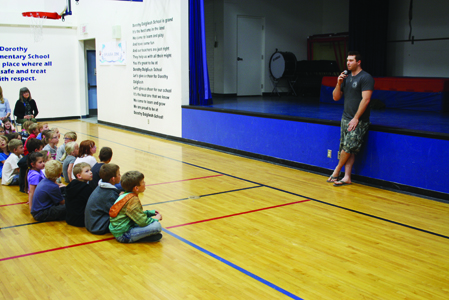 By Stan Ashbee
Sunny South News
As a school, Dorothy Dalgliesh School in Picture Butte wanted to do something to help out residents of Fort McMurray, along with Noble Central School and Nieboer Farms in Nobleford.
According to Shari Rogerson, principal of the elementary school, the collective group requested donations for displaced families.
Items requested included toiletries (shampoo, conditioner, soap, toothbrushes, toothpaste, combs, brushes, deodorant, feminine hygiene products), diapers, wipes, formula, pillows, blankets, underwear, socks, clothes, shoes, clothes hangers, bottled water, boxes to make up care packages, and anything else people may need after having to evacuate with nothing.
"We also are gratefully accepting cash donations, which will be donated to the Red Cross, as the government pledged they would match any monetary donations made," Rogerson noted, last week.
Rogerson added the group started collecting May 6 and shipped collected items to Nieboer Farms this past Thursday.
"We continue to accept monetary donations through this week at the school's office. We had a huge outpouring of donations in the short time we had. We ended up filling an SUV full. The donations were shipped in a truck by Nieboer Farms to Edmonton Emergency Relief Services to distribute to displaced families as needed," she said, last week.
The donation project, Rogerson explained, fit in nicely with the school's word of the month — "compassion."
"Students are making connections to the tragedy and want to show their support," said Rogerson.
Nathan Gilchrist, a Fort McMurray firefighter, paid a visit to the school last Thursday to say thanks to students and the community for their generosity.
The 28-year-old firefighter grew up on a farm just outside of Shaughnessy and has been fighting fires with the Fort McMurray fire department since 2010. His nephew Gavin is also a student at Dorothy Dalgliesh School.
At the beginning, when the wildfire began consuming Fort McMurray, the number one concern was the people.
"Trying to get the people out in a safe and orderly fashion. The community itself was amazing. Most people did leave right away, whether they had to go north or south. It all pretty much depended on where they were," he said, with the traffic, there was a bit of havoc trying to get an entire city of 85,000 out safe and sound.
"But for the most part people were very good about getting themselves out and following orders and listening to the police and listening to the fire (department) moving them out," he added.
One message he wanted to convey to students was for students to think about if they had only five minutes to grab something out of their house, what would it be, to take with them and what they considered important?
"In the end, as long as you're with your family everything else can be replaced," he said, adding students need to try and stay calm in an emergency and listen to the people telling you where to go.
Gilchrist said the amount of support from other fire departments, the Red Cross and other organizations and from communities in Alberta and across the country helping out has been amazing and he wants to say thanks.
"We're kind of in a bubble, we don't see the news, we don't hear that kind of stuff but we can see the support coming in, we can see the people coming in, we can see the supplies coming up to help us," he said.
Gilchrist had a few days off last week but headed back up north into action.
Students enjoyed the visit.