Local brews on tap at Coulee
Posted on May 17, 2016 by Sunny South News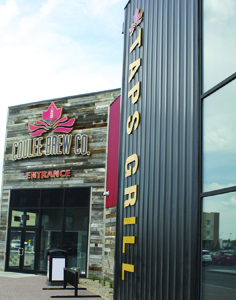 By Stan Ashbee
Sunny South News
Homer Simpson indeed has a passion for his favourite libation — mmm… beer. So does Badger Colish from Coulee Brew Co., located on 43 Street South in Lethbridge. Colish is Coulee Brew's "Disciple of Yeast," "lifelong learner" and the new local brewery and restaurant's brewmaster.
As the local beer designer-extraordinare admitted — it's not a job, it's a lifestyle.
Co-owner of the brand new brewery Deb Pallett said the restaurant opened in January but it was on Apr. 22 when the brewery-side gave birth to its very first batch of beer.
"You've got the brewery side of this but then you've got the full blown restaurant on the front of it. What you have back here is a production facility that's going to supply beer to the broader markets plus we're blessed with, not only a large production system but we have what I call a 'pilot brewhouse,' as well," Colish explained.
"It's a smaller size brewhouse and that's providing beer exclusively to the restaurant on site. We're going to end up having, our staple four flavours we offer to the broader market, four at any one time — those will be available here but then we can augment that as well with about five additional flavours. You're looking at anywhere from nine to 10 flavours of bar beers on tap, in-house at any one time," Colish noted, plus a couple of guest taps.
"We're going to reserve a couple of taps for those smaller breweries that need a stage to come play on," he added.
According to the craft beer creator, the brewery started brewing on the pilot system and beer was available for a few weeks.
"The unfortunate part is people like to drink it faster than I can brew it on that system. We ran out in about a week of the first three batches we brewed. As soon as the fermenters are empty, we fill them right up but it takes a two-week fermentation time on ales and a month on lagers, so I haven't done any lagers yet. If I fill a tank up immediately it still takes two weeks before it's done and then I can fill the serving vessels again," Colish said.
Pallett said Coulee Brew Co. is a wish fulfilled by a group of local people with the same goal in mind and wish — craft beer brought back to Lethbridge and southern Alberta.
She noted Lethbridge had a brewery back in the day that was definitely a focal point for the community. "We want to do that again, only this time with craft beer," Colish added.
Pallett said Coulee Brew Co. employs seven in the brewing portion of the multi-faceted facility or back of house and front of the house has 30 plus employees.
The world of craft beer is expanding exponentially thanks to beer tastings, tours, and home brewers. But, as for mass produced beer for the rest of Alberta, Pallett said Coulee Brew Co. should meet local market needs first.
"We want to get it here, so when people come here and they know Coulee, they're asking for Coulee outside of Coulee and there's a recognition of the name and the quality of the beer associated with it. We'll start with the local market and move forward to the rest of the province," she said.