CUSTOM CRUISERS kick off annual Show and Shine in Coaldale
Posted on May 24, 2016 by Sunny South News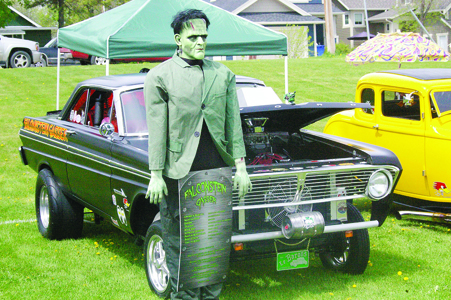 By Stan Ashbee
Sunny South News
Coaldale Custom Cruisers kick off the classic and not-so-classic car show circuit this Sunday in the bowl of R.I. Baker Middle School in Coaldale with the club's 15th Annual Show and Shine.
Gary Klassen, president of the Coaldale Custom Cruisers car club, said last year's show was one of the best show's the club has ever put on. "We've had some new members come join the club. I'm still the president. They haven't got rid of me yet," he joked.
Registration is from 10 a.m. until 12 p.m. And, the show runs from 12 p.m. to 4 p.m. Registration for participants is $10. The car show is free to attend for spectators.
"We're also having vendors this year. If vendors want to come in, it costs them $100," Klassen noted, adding an insurance company is going to be on location, as well as an automotive shop. "Just a few small ones."
According to Klassen, the Coaldale Kinsmen will be at the show selling Harley raffle tickets and Coaldale and District Emergency Services will be serving up food to raise funds for the department.
"We always get the fire department to run the food," he said.
The Show and Shine will also be featuring a 50/50 draw.
"Half goes to the food bank," he said, adding the other half goes to a memorial charity. There will also be door prizes.
Last year, Klassen said, the Show and Shine had 164 participants.
There's also an award, he said, for the furthest participant to register in the show.
"I'm going to have a trophy for motorcycles and for the furthest distance travelled and a trophy for best club participation," Klassen said.
There will be 10 trophies in total, he noted, including the coveted Hard Luck Trophy — given out each year.
"Last year, it went to a girl who blew a transmission on her vehicle coming to the show. One year my brother-in-law won the Hard Luck Trophy — he rolled his truck coming to the show," said Klassen.
Klassen believes last year's how was a great success and everyone involved with the show and spectators seemed to enjoy it.
"People really like our show. It's always a nice show," he said.
New club members are always welcome too.
"We're having our meetings right now at 3G Eatery in Coaldale. The meeting is the second Wednesday of the month and it starts at 7:30 p.m. And anybody that has an interest in cars is welcome to come," he said, adding the club now has close to 30 members.