Excel flies high
Posted on May 24, 2016 by Sunny South News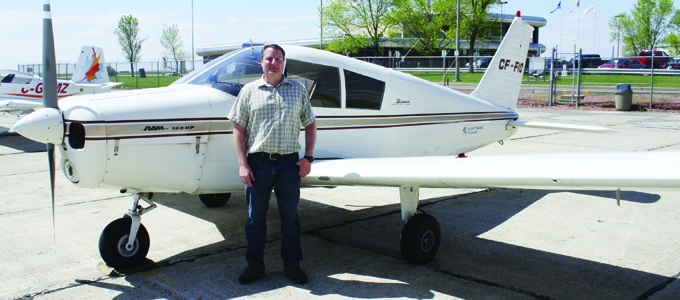 By Stan Ashbee
Sunny South News
Excel Flight Training is a Transport Canada approved flight training school, located on Stubb Ross Road by the Lethbridge Airport.
"Flight training in Canada is actually regulated by the federal government," said owner, operator and chief flight instructor Roland Morton. Excel Flight Training started in 2002 but Morton has been teaching since 1996.
"We offer basically all of the licences and ratings you can get for fixed-wing airplanes. We don't deal with helicopters or anything like that — we're strictly aircraft. For the most part, we deal with the certified aircraft, which are manufactured. We don't really do much with home builds or ultra-lights or gliders or anything like that. These are basic powered aircraft," he noted.
Excel offers private pilot licence training, which is for recreational purposes. "That's where a lot of our students come from and are doing," he said, adding the private route is the licence to learn.
The private pilot licence training is learning how to fly an aircraft and how to handle emergencies. "So, you can go out and enjoy yourself in an airplane."
Excel also offers commercial licence training, which Morton explained is an add-on to the private pilot licence.
"After your private licence you can do a commercial pilot licence, which allows you to make money or work with an aircraft. It's more training and it's more focused on customer service and on safety and rules and regulations of how to transport goods and people from place to place," Morton said, adding there are other ratings or add-ons depending on where and when a student wants to fly.
A private pilot licence only allows a pilot to fly during the day. "We'll do a night rating if students want to fly at night. We'll do an instrument rating if they want to fly in the clouds. We'll do a multi-engine rating if they want to fly bigger, faster or more complex aircraft. And, we also do the instructor rating, which is taking a commercial pilot and then teaching them how to instruct and become a flight instructor," said Morton.
Morton said Excel tailors courses to what a student wants to do with an airplane. "They'll come in and say this is what I want to do with a plane — what licences do I need. We will set them up with the training they require," Morton added.
As a company, Morton said, Excel has a number of aircraft used for training purposes and aircraft can also be rented out.
"After they have their licences, if they want to come back and keep current and keep flying and they don't have their own aircraft, they can actually rent from us," he said.
Or, after training or even before training is complete, some students may purchase their own aircraft and Excel can train those students in their very own airplane.
Students will learn a combination of ground work and flying. Ground work training includes rules and regulations, weather, theory of flight and how an airplane flies and navigation.
"In the airplane, they'll be going out and doing a series of lessons in the airplane, one-on-on with an instructor. Where they're actually learning the physical skill of handling the airplane. We start off really basic, we start off with how to make the airplane do what you want it to do, how to climb, descend and turn — very basic manoeuvres and then we work into more of the complex things including taking off and landing. A big part of that is dealing with emergencies. We can't just pull off to the side of the road and call a tow truck. If something goes wrong while we're flying, we also need to learn how to deal with that in the air and get the airplane safely back onto the ground," said Morton.
For the private pilot licence, Morton explained, there's 45 hours of flying and 40 hours of ground school.
"Each hour of ground school, is done through the evening hours. The flying part has to be done during daylight. We try to save our daylight hours, mainly for flying," said Morton.
Morton added students can start training at any time. "Because the flying is done one-on-one, we can start flying anytime," he said. Students may not be able to get into the ground school portion right away but will be put into the next available ground school session.
Excel also offers Discovery Flights — a 30-minute flight with an instructor.
"We use our single-engine four-seat training aircraft for that. With the instructor, we can actually accommodate up to three passengers. Typically, on the Discovery Flight, the person most interested in flying, we'll encourage them to sit in the front with the instructor and they'll actually get a chance to handle the controls of the aircraft and fly it around a little bit and manoeuvre and kind of see what the airplane can do and the types of things they'll learn on their private pilot licence. We generally take a scenic tour over the city and look at some local landmarks and see some of the sights Lethbridge has to offer from the air," said Morton.
Visit flywithexcel.com for more information.