Kinsmen fundraiser for fire relief
Posted on May 24, 2016 by Sunny South News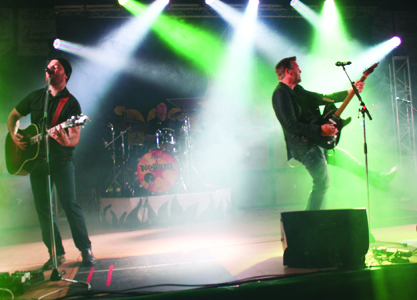 The following are comments in regards to the recent Doc Walker concert fundraiser for Fort McMurray fire relief. The comments are from Kinsmen Club of Coaldale members.
Todd Larson, Kinsmen member and Fort McMurray resident, said the support received and witnessed in the local community has been beyond any expectations.
"As evacuees of Fort McMurray, myself and my family thank the Kinsmen Club of Coaldale for organizing the event and the community for supporting the Red Cross and attending and donating to the relief effort. We would like to thank everyone, everywhere, for the support, aid and selfless acts of kindness that have been given to all evacuees, wherever in Canada they may now be. I am proud to be from Canada, from Alberta and, most of all, from Coaldale," he said.
Brad Calder, Kinsmen member said, he was excited when the agency for Doc Walker contacted him, and made what seemed to be a really good offer.
"After talking with the Kinsmen Club they let me pursue it further, which I am glad they did. Doc Walker was easy to deal with, and they put on a great show with the dance floor never being empty. As it turned out, the concert could not of come at a better time, with the situation in northern Alberta. Current and past members of our club live in Fort McMurray and were evacuated. This is when I thought to make it a benefit concert to help out and the whole club agreed hands down. Goes to show what a small group of guys can do when they put their minds to a project," Calder said.