Luxury boarding suites for canine companions at Hot Dogz
Posted on May 24, 2016 by Sunny South News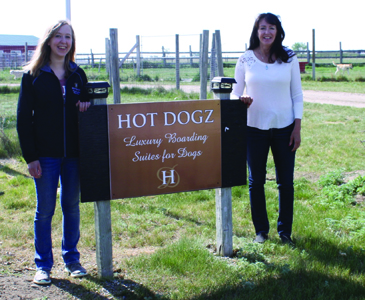 By Stan Ashbee
Sunny South News
Many times families want to go away but need to find a suitable and inviting place to take their dog and know their faithful companion will be taken care of. Pamper your pet and be rest assured your pet will be living the high life in style at Hot Dogz "Luxury Boarding Suites For Dogs." The canine hotel, in its eighth year operating in Lethbridge County, is located on McNally Road near the Lethbridge Airport or at R.R. 8, Site 2.
Hot Dogz provides overnight boarding and doggie daycare, said owner Rhonda Stuckey. And with the recent expansion of the facility, a grooming salon was created. "We are grooming dogs now," she added.
Stuckey said the tail-wagging guests are exercised twice a day and the dogs get free roam time outside, as much as they want too.
"We supply treats and play games with them. We do try to brush them out, if they are needing that. And, we try and match them up with somebody they're compatible with, so they don't get lonely," Stuckey explained.
Hot Dogz, Morgan Denis said, tries to create a home-type environment for the dogs.
"We spend a lot of time visiting each dog individually and hanging out with them. The inside of their suite is very home-like, so we can kind of go in there and have that time with them," said Denis, a full-time employee. This marks Denis' third summer at the facility, where she started working casually in the summers.
Stuckey noted she did a lot of research throughout Alberta looking at different kennels.
"I came to the conclusion, I wanted it as nice for my staff, as well as the dogs — to share the same area. I really am against the word 'kennel,'" she said, adding the kennel stigma is something the business wanted to stay away from with Hot Dogz.
"We like them to have a lot of open space. It cuts down the stress for them
Staff also try to keep the guests on strict routines.
"At night time, when we lock up and when the lights and the radio go off, it's quiet as a mouse in here," Stuckey noted.
Stuckey said she really wanted a nice facility that is comfortable for dogs and customers can see their dog when they come in.
"Or have an idea where their dog would be," she said.
With summer being a busier time for the pooch palace, Stuckey said, a few more summer staff have been hired to help out.
Summer staff, Stuckey added, are students studying to be veterinarians or interested in working with animals for a living.
Before opening the business, Stuckey said, she raised horses for over 20 years but had a few accidents and decided to liquidate her horses and renovate and remodel an existing building on her property. "I've actually looked after and raised animals for over 25 years," said Stuckey.
According to the owner, Denis has her canine first aid certificate and the business is equipped with giving injections and medications too. "We do really try and make it the best, so the customers are happy. We try and meet their wishes," Stuckey added.
For more information about Hot Dogz visit online at http://www.hotdogzkennel.com.