Settler Days coming to Coaldale: Candy parade, celebration of the arts, and more
Posted on June 28, 2016 by Sunny South News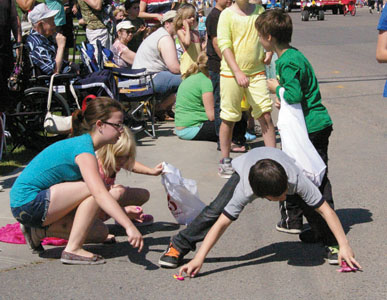 Settler Days coming to Coaldale: Candy parade, celebration of the arts, and more
By Stan Ashbee
Sunny South News
Settler Days in Coaldale is being held throughout the town July 8-10 featuring its annual Candy Parade. Other activities include a family zone, hayrides, a pancake breakfast, a celebration of the arts, a community market, and a street dance. Every year kids of all ages flock to the streets July 9 for the Coaldale and District Chamber of Commerce's Candy Parade. The parade is led each year by parade organizer and chamber member John Pollemans, who takes care of all the behind the scenes work. "The parade starts at 11 a.m. And, the same route as any other year and we are going to have candy again this year we are going to hand out. We're looking for people to come and enter the parade and we're looking for anything and everything. From bicycles to antique vehicles to large floats and small floats," Pollemans explained.
Candy-wise, Pollemans added, the parade will feature close to 3,000 pounds of free candy. "It's good for the dentists," Pollemans joked. Every year, the event is short on volunteers. "We need volunteers at the parade route. We need a large amount of volunteers." And, volunteers are needed for the entire Settler Days event. This year, Pollemans noted, the Coaldale RCMP will be leading the parade. "The Town of Coaldale is under the RCMP now," he said, adding the Lethbridge Regional Police Service (LRPS) was at the lead in previous years.
Coaldale's Arts and Cultural Committee of the Gem of the West Museum Society proudly presents A Celebration of the Arts July 9, in conjunction with Setter Days. The arts festival is looking for visual, performing and literary artists to help the community celebrate local arts and artists in Coaldale and surrounding communities. Opportunities include busking, spoken word performances (original work only please), literary displays, art displays and art demonstrations. For more info contact Brenda at 403-332-1740 or e-mail lilBITblue.design@gmail.com. Don't miss the Coaldale Public Library's annual Book Sale from 12-5 p.m. on July 9. All proceeds go to the Friends of the Library Society.