Slovack retires from Sunnyside
Posted on July 5, 2016 by Sunny South News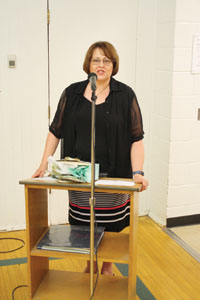 Slovack retires from Sunnyside
By Stan Ashbee
Sunny South News
Before beginning her 26-year stint as secretary at Sunnyside School, Colleen Slovack was a parent volunteer.
"She was involved with Sunnyside for a long time because all of her children attended Sunnyside School. Now, four of her grandchildren attend Sunnyside School. That's pretty special. You can tell it's a pretty special place for her," said Principal Connie Adserballe, during a year-end assembly and retirement farewell to Slovack, held June 28.
Over 26 years, Adserballe noted, Slovack has seen many changes.
"There have been nine different principals at the school and there's been a lot of other changes. Procedures of how the school is run, photo copiers have changed over the years and I'm pretty sure the laminator hasn't but a lot of other things have changed," she joked.
Mrs. Slovack, Adserballe added, has also had to do a lot of learning to keep up with those changes.
"Especially, with the new computer programs that continually change from year to year."
But, Adserballe said, Mrs. Slovack wasn't just the school's secretary — she filled a lot of other roles. "And, she holds a very special place in the Sunnyside School community and that's not going to change," she said.
Sunnyside School was established in 1953 in Lethbridge County and continues to serve the Sunnyside community, as well as some Lethbridge and area families. Sunnyside School is an Early Learning to Grade 6 elementary school, located five minutes east of Lethbridge just off Highway 3 on Sunnyside Road.
Esther Willms, a Palliser Regional Schools trustee, said she believes Slovack almost magically holds all of the answers to many of the questions students and staff have asked and may ask next year.
"What will we do without Mrs. Slovack?" Willms asked students and staff during a presentation for the retiring secretary. The questions are still going to be there next school year, said Willms, and Mrs. Slovack isn't going to be at the school.
"On behalf of the Palliser school board and Central Office, I'd like to thank Mrs. Slovack for all of her years of dedication and for her commitment — not only to the students but also to the students' lives she's impacted and all of the lives she's touched. But, also to all of the teaching staff," Willms said, adding Slovack has also been an influence on each and every person who has come in and out of the school.
"That will not be forgotten," said Willms.