Farm safety a part of everyday living
Posted on July 20, 2016 by Sunny South News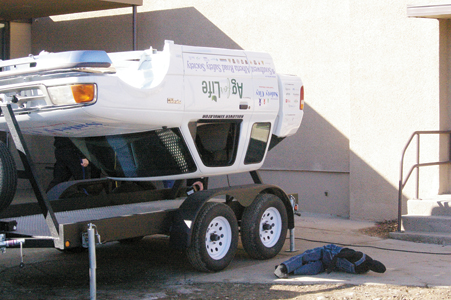 By Stan Ashbee
Sunny South News
Farm safety in rural southern Alberta is a very important aspect of everyday living for many Lethbridge County residents.
Agriculture for Life or Ag for Life for short wants to teach young children about possible hazards around the farm and home and hopefully what is taught will trickle down to the parents.
Ag For Life's goal is to greatly reduce the number of farm injuries and fatalities by providing educational safety programming to rural Albertans of all ages. Ag for Life is a charity based in Alberta and the organization delivers rural and farm safety, predominantly to elementary through to high school students.
"One of the most important things we remind students is just to stop and think before their actions. And, make sure they understand and assess any risks that may be there and if there are, make smart decisions based on — should they be doing this activity or not?" said Luree Williamson, Chief Executive Officer of Ag for Life.
Williamson believes a lot of the producers and farm families Ag for Life has been exposed to — safety is always top of mind.
"They have practices in place, in particular with the farms with the families. They have play safe areas set up. When we get busy and we're into seeding or when we're into harvest time, I think it's just reminding each other and working together as a family to stay safe. Putting in reminders throughout the worksite it is a worksite and there's play safe areas, there's worksites and respecting those boundaries," she explained.
When regulation comes into play, like Bill 6, it's one component — Williamson noted.
"We have to have education, you have to continue to educate. We can regulate anything but we need to ensure we're educating and reminding people of the key messages," she said.
Ag for Life works together with safety experts across the province and visit schools or communities and set up stations so participants can travel through and learn about top safety concerns and exposures on farms and with rural living.
"Maybe some of the hazards you might find on a farm or you find in rural communities. For example — water safety is one we touch on, confined spaces, large equipment — those are some examples of some of the safety topics we will present to the students. Just giving them the information around here are the risks, here's some hazards — now, how can we control these hazards to keep yourself and those around you safe," she said.
Ag for Life, Williamson added, likes to make sure programs and messages are delivered in a positive way with hands-on and interactive opportunities to learn.
"We encourage the students to ask questions. We encourage the students to share stories. What they do on the farms, what are there safe practices? We like to keep it very positive and an energetic experience for the students," she said, adding Ag for Life also partners with Lethbridge Exhibition to present the rollover simulator at a variety of events.
"That's a great visual simulator. Many of us are visual learners and when you have the opportunity to see the rollover simulator in action, it drives home the message of put your seatbelt on," Willamson said.
This summer, Williamson said, Ag for Life is doing some work with 4-H students across the province and then the fall program kicks off in September. "We're booked already for the next year."
Here's what Ag for Life has to say about rural and farm safety.
Agriculture is a way of life, but one with inherent risks. When it comes to physical safety, the industry is considered the third most hazardous in Canada, and in terms of absolute numbers of fatalities it is deemed to be the most dangerous occupation.
The following are statistics from 1990-2009 in Alberta.
* 355 Albertans were killed in agricultural injury events. This equates to an average of 18 deaths each year, four among children aged 0-14. This does not include recent statistics.
* The top five causes of agricultural fatalities aged 15–60+ include: machine runovers, machine rollovers, pinned or struck by a machine, animal-related and machine entanglements.
* Children aged 0-14 include: runovers, drowning, rollovers and animal-related causes.