Vote for Miss Teen Lethbridge: Picture Butte's Alyssa Van Vaerenbergh competes nationally
Posted on July 20, 2016 by Sunny South News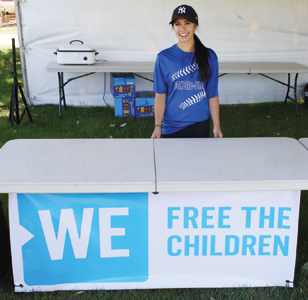 By Stan Ashbee
Sunny South News
Miss Teenage Lethbridge 2016, Alyssa Van Vaerenbergh, is in Toronto this week to compete nationally for the title of Miss Teenage Canada 2016. The 17-year-old Picture Butte teen attended school in the Lethbridge County community until Grade 7 and recently graduated from Catholic Central High School in Lethbridge. Local residents can vote online for Van Vaerenbergh, while she is in Toronto competing for the crown.
According to the reigning Miss Teenage Lethbridge, the essence of these competitions is encouraging youth to be an advocate, gain confidence, and get involved in and around their communities," she noted, during a charity softball tournament she organized earlier this summer to raise funds for Free the Children, which Alyssa explained, is an amazing organization that operates on five main pillars to empower communities — education, clean water, health, food security, and alternative income.
Miss Teenage Canada, Alyssa noted, will have close to 60 girls from across Canada competing for the national title.
"There will be a series of interviews throughout the week and we're judged on our evening gown, the way we conduct ourselves and the amount of money we've raised for the charity Free the Children," she said.
Van Vaerenbergh said she believes the competition strives to pick someone who is an advocate for youth and will represent the title well.
"And, try and get their messages across to people," she said, adding she flew to Toronto this past Sunday, when the official voting online begins until July 24 at the website http://www.missteenagecanada.com and under "MTC Finals" and click "Finalists."
"Anyone with a valid e-mail address can vote," she said.
Last week, leading up to her first-time trip to Toronto, Alyssa was nervous but excited to visit the city, take part in the competition, meet some of the other girls competing and network.
"The whole Miss Teenage Lethbridge thing has been a great experience and I met so many people," she said.
An interesting point Van Vaerenbergh shared was contestants are not allowed to be in contact with their families during the competition.
"Because of pressure and what not," she said, adding her family will fly out this week to attend the competition and watch the show. Alyssa said there will be a talent gala on Friday and on Saturday there will be preliminaries and the final show will run Sunday, which will be streamed live online.
This summer, Alyssa has been volunteering with a few different organizations including the MS Society and the Canadian Cancer Society. "I've been attending all the special events taking place. It's been busy but super awesome. I've loved it," she said. She has also been helping out at the hospital, as well.
She said she will continue to be out in the community promoting volunteerism.
This fall Alyssa will be working towards a bachelors degree in nursing at Lethbridge College.
Alyssa also wanted to thank all her sponsors leading up to the national competition.
"They've been a big part of making this a possibility for me," she said.