Coaldale's culture and sport Explorerz a hit with kids
Posted on August 2, 2016 by Sunny South News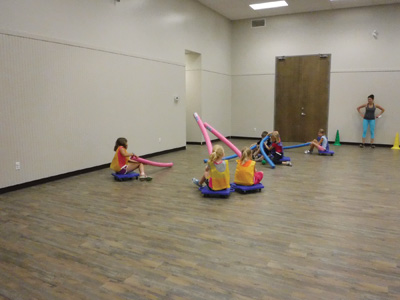 By Stan Ashbee
Sunny South News
Technically, registration closes a week before summer camps begin in August but if a child wants to register for the Aug. 8 or Aug. 15 camps — they will be able to still get in on all the fun this summer in Coaldale.
Coaldale summer programs include Sport Explorerz (which runs Aug. 8-12 at The Hub for kids aged 9-13 years old) and Coaldale Explorerz (which is a culture camp and runs Aug. 15-19 at the Gem of the West Museum for kids aged 6-8 years old).
Both camps run from 9 a.m. to 4 p.m. Monday through Friday. For more information and/or to register contact via e-mail at programs@coaldale.ca or contact/drop by the Gem of the West Museum. Or check out the summer Coaldale Leisure Guide or visit online at http://www.coaldale.ca or call 403-345-1329.
Previously this summer, the Sport and Coaldale Explorerz camps were offered for a different age group of children.
"I run the culture camp," said Alysha Smith, the town's arts and culture co-ordinator.
"We do lots of crafts, arts, we go to the Alberta Birds of Prey Centre, we go swimming, we go into town, we've gone to the library and we try to do theme days, so we definitely did an art-themed day. We used different types of medium of arts including salt painting, quill pens and we made bannock," she added.
Just different types of things that get to the root of the cultures in Coaldale, Smith noted.
Kyla Matthews, the town's new summer program co-ordinator, takes care of the Sport Explorerz camp which features FUN-damental movement, which encourages kids to try new sports.
"Each day is a theme. They have throwing days, kicking days, running days and then other activities such as the pool, the spray park and basically getting them moving and active," said Matthews, adding the summer program offers kids healthy opportunities.
Smith explained the August summer programs are just a flip-flop of the ages.
"In July, we did our 6-8 year olds sport camp and our 9-13 year olds culture camp," Smith noted.
Matthews said the space at The Hub and surrounding area provides great opportunities for the kids with the Community Centre and the R.I. Baker field and playground close by.
"It gives kids an opportunity to try out a lot more things because you have the available space for it, which is nice," Matthews added.
According to Smith, staff and summer program participants always have a lot of fun.
"It gives kids an opportunity to do a little bit of different things through the summer and they're always doing something, whether it's in the sport camp and always being active or in the culture camp they're being a little bit more tactile hands-on. It gives them the opportunity to do something more than just sitting in front of the TV or playing Pokemon Go or something," Smith joked.