It's time to whoop it up again!
Posted on August 18, 2016 by Sunny South News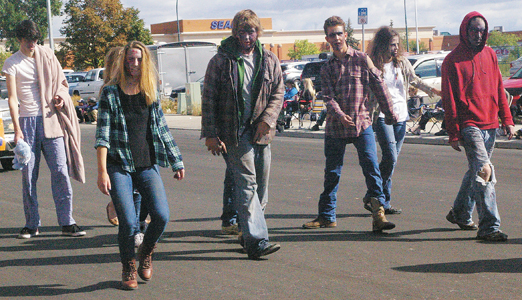 By Stan Ashbee
Sunny South News
It's time to whoop it up once again with this year's Whoop-Up Days Family Festival Aug. 23-27 at Exhibition Park in Lethbridge. A parade, pancake breakfasts, rides, fair food, vendors, and free entertainment are planned for the whole family with new additions each and every year.
"We try to enhance the programming from the year before," said Doug Kryzanowski, corporate relations, marketing, events and entertainment at Exhibition Park. He added it is Exhibition Park's mandate to continue to evolve with new and exciting programming from year to year. This year, he noted, there's over 19 new activities.
On Aug. 23, it's the widely-popular Whoop-Up Days Parade at 10 a.m. The parade route starts at 1 Avenue and 3 Street South and heads east on 3 Avenue south and north on 13 Street to 9 Avenue north. Parade staging takes place at Park Place Shopping Centre.
"We're really pleased to have Bob Balog as our Honourary Parade Marshal and our ambassador throughout Whoop-Up week. Bob's a great supporter of 4-H and the local southern Alberta region with farm and agriculture and a great supporter of the exhibition," he said.
Musically, the Gas King Stage at Pioneer Park will feature once again a great Canadian line-up with Trevor Panczak and Jason Blaine during the Country Kick Off Party Aug. 23. On Aug. 24, don't miss The Standstills. On Aug. 25, Kim Mitchell hits the stage. On Aug. 26, Hamilton's Monster Truck headlines. And, on Aug. 26, it's Roots and Blues Festival Day featuring J.J. Shiplett, Angel Forrest and The Last Waltz.
According to Kryzanowski, one of the draws of the family festival is the midway.
"We have West Coast Amusements back again, as well as the Drop Of Doom, which is the reverse bungy jump. That's always exciting," he noted.
This year, the exhibition's rodeo format as been changed to the Can-Am Pro Challenge and it is entitled, Bucking and Barrels.
"We've got four events this year — saddle bronc, bare back, ladies barrel racing and bull riding. It's going to be four contestants from Canada in the each division and four from the United States, so it's Canada versus the U.S.A.," he said, adding it's a professional Canadian/American challenge. The event will be three performances during Whoop-Up week at the Grandstand.
"It's Thursday, Friday and Saturday. We've changed the time to 7:30 p.m. every night."
Additionally, he said, this year's exhibition will feature i-Flip, which is an outside acrobatic show and inside the South Pavilion will feature Super Dogs.
"Each of those events, outdoors and indoors, offer great family entertainment and of course it's part of the admission fee, as you come in the door," he said.
In February, Lethbridge Exhibition Park went through an overhaul and rebranding.
"Our new brand, we're still rolling with it, and we hope people don't get tired of it. We've got a new music concept we play with our electronic advertising, as well as throwing it in the print and everything else with the new brand. It's more contemporary and obviously more modern. It's easily identifiable now. We cover such a broad spectrum of event planning, anywhere from rodeo, Whoop-Up Days, farmers' markets, home and garden, Ag Expo and Aggie Days — we have to be able to become a little more contemporary in what our approach was. We think we hit it when we launched it in February," said Kryzanowski.