Summer reading success at local library
Posted on August 30, 2016 by Sunny South News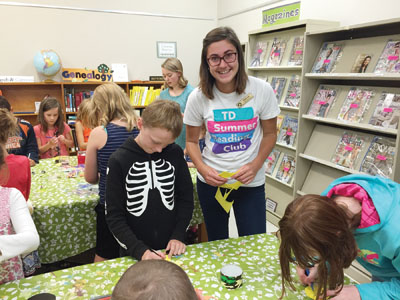 Coaldale Public Library
Mckenzie Matthews, summer reading co-ordinator at the Coaldale Public Library said this summer was a wild one at the Coaldale Public Library.
With the TD Summer Reading Program and the Hot Book Club, Matthews noted, the library had plenty to keep everyone busy.
"Both programs ran for eight weeks and were huge successes reaching over 140 children this summer collectively," she said.
According to Matthews, the TD Summer Reading Program is a nation-wide program sponsored by TD, which Coaldale takes part in.
"Our hour-long programs ran twice every Wednesday at 11 a.m. and again at 2 p.m. With stories, crafts and games there was never a dull moment. Some of our activities included parachute contests, nature walks, adapted Olympic sports and treasure hunts. Some of the exciting crafts we made were popsicle-stick catapults, foam gold medals, sheriff badges and even clay faces," she explained.
The main highlight, however, was the competition between the TD Summer Readers and library staff, Matthews added.
"To see who could read the most books this summer. Naturally, our staff was greatly outnumbered and ended up with a tough loss but we made it a close competition all throughout the summer," she said.
Matthews said the library's Hot Book Club filled up quickly this year with two hour-long sessions a week at on Tuesdays and Thursdays.
"For half an hour, older volunteers read with younger participants to maintain reading skills for all involved throughout the summer. Afterwards we held sponge relays, painted rock friends, played balloon tennis, created balloon-powered paper airplanes and so much more. Our volunteers made every day possible with the amazing energy and enthusiasm they brought to every session," she said.
"A huge thank you to them all, as this club would not be possible without them," Matthews said.