4-H Beef Club raises funds: Jack, the steer, sold
Posted on September 6, 2016 by Sunny South News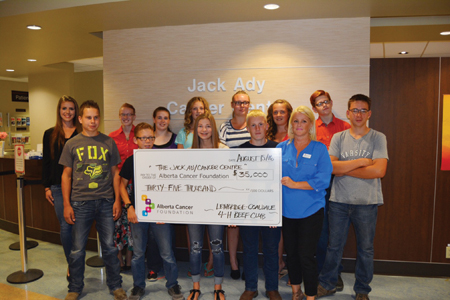 By Amy Slingerland
Lethbridge-Coaldale 4-H Beef Club Reporter
The Lethbridge-Coaldale 4-H Beef Club has been raising a charity steer named Jack since October 2015 and sold Jack in June 2016.
From the proceeds of this sale we were then able to donate $35,000 to the Jack Ady Cancer Centre located in the Chinook Regional Hospital in Lethbridge.
The Jack Ady Cancer Centre assists cancer patients and their families in preparation for tests and cancer treatment choices, improves the co-ordination of care by working with other healthcare providers, and helps patients access financial resources and community support.
We would not have been able to make this donation without the support of the community and especially our buyers.
Again, a thank you to all of you who have donated to help us cover the expenses of raising Jack.
A huge thank you to those of you who bought Jack namely: AB Prime Beef and Trucking, Will's Dairy, Perlich Auction, Country Commodities Ltd, Van Raay/Pascal Feeders, Andy Van Essen/Thompson Livestock Co. and Wiskerke Farms.
EDITOR'S NOTE: Lethbridge County 4-H clubs, please send in reports, pictures, event listings and anything 4-H for publication in the Sunny South News.
E-mail submissions to ssnews@shawbiz.ca.
We want to hear from you about 4-H happenings within the county.
Let us know when your club starts for the season and what's up.