Solar power electrifies already popular corn maze
Posted on September 13, 2016 by Sunny South News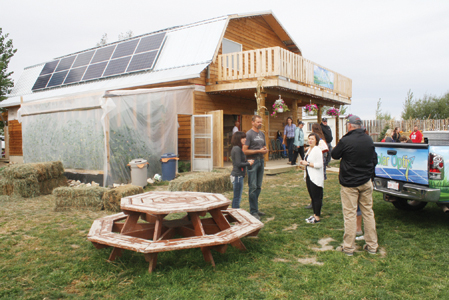 By Stan Ashbee
Sunny South News
Theo and Esther Slingerland from the Lethbridge Corn Maze were really excited to explore solar power.
"So, they contacted us. We had a program, this is an Enmax contract project. They were able to receive some funding through the CCMC, as well as Growing Forward 2," said Bryce Allred from Solar Optix, who was on hand this past weekend to celebrate the corn maze going green. He added Enmax contracted his business to install the system, which is 7.5 kilowatts.
"There's 30 250-watt panels and a 6,000-watt central inverter, which ties the system to the grid. When the sun is shining and they're using the power, it goes straight to their operation and if they don't use the power, it goes back onto the grid and they get reimbursed from their retailer," Allred explained.
"Not only is the corn green at the Lethbridge Corn Maze but so is our electricity. Come check out our 7.5 kilowatt grid-tied solar array on our recently completed barn", stated corn maze owner Theo Slingerland, in a recent media release.
Solar Optix and the Lethbridge Corn Maze co-hosted the solar energy information event. Shannon Phillips, Alberta minister of environment and parks and minister responsible for the climate change office visited the local tourist attraction over the weekend.
Allred noted any place on the farm using power and when the sun is shining — the system installed will use the solar power.
Southern Alberta farmers, producers and commercial businesses are starting to realize the potential of going green and turning to solar for their energy needs. There's still funding available from Growing Forward 2, Allred added, and he believes the amount is up to $50,000 per applicant.
"Currently, we have over 600 kilowatts under construction in conjunction with Enmax throughout southern Alberta. Most of them are large ground-mounted systems, so out in the middle of a farmer's field and we'll tie them into a pivot irrigation system or we'll tie into a dairy barn or a feed mill. Anyplace that requires electricity, we can tie into," Allred said.
Southern Alberta, Phillips said, has a great solar resource and a lot of potential for farms and small businesses to reduce their energy costs.
"This program came about from two different sources of funding. From the department of environment through the Emissions Management Fund, which is funded through my department and through Growing Forward, which is through the agriculture department. We expanded both of those programs earlier this year. It's great to see some of that is coming to fruition right here in Lethbridge," Phillips said.
Phillips said the southern Alberta region is definitely going to see growth in solar power because the province has made a commitment to renewable energy and making sure it is supporting farms, businesses and individuals to make solar installations.
"Supporting companies like Solar Optix, who are based in Lethbridge, with those good local jobs. That's going to be part of the reinvestment of the carbon levy going forward and it's going to diversify the economy. It's going to make sure farms and other businesses in southern Alberta are self-sufficient with respect to their electricity," Phillips added.
This particular project, Phillips noted, was funded through the Growing Forward 2 program, which is a joint federal and provincial program.
"What the provincial government did earlier this year is we expanded some of those funds, so we could have more projects exactly like this one. This is an example of those investments we made earlier in February. We fully intend to be expanding those programs further in the coming months. I encourage farms, irrigation districts and small businesses to keep an eye out for those programs. We're also, very soon, going to be announcing indigenous solar community programs. We made that commitment in the budget and very soon we will have the specifics on how those will be moving forward," she said.
In addition, Phillips added, individuals, homeowners and others can look for many of these programs happening in early 2017.
"As we've said, the carbon levy will take effect and it will be funding programs like this but also some of the home energy efficiency programs like new programmable thermostats, retrofits and those kinds of things that are quick and easier things for homeowners to do — to reduce their costs and therefore, their energy use," said Phillips.
Alberta, Phillips said, is well-positioned and southern Alberta has some of the best solar resource in Canada.
"Certainly, some of the best in Canada and the United States. We have an opportunity to move forward on utility-scale solar, on some of these smaller scale, especially on farms and in small , but also for communities. Communities have great rooftop real estate in arenas, soccer centres, other community centres and community halls. There's an enormous amount of real estate in southern Alberta that can be generating electricity and generating jobs, small business growth and revenues for communities. We're looking at all of those things going forward into January 2017," Phillips said.