Author Eric Walters to visit Baker School
Posted on September 20, 2016 by Sunny South News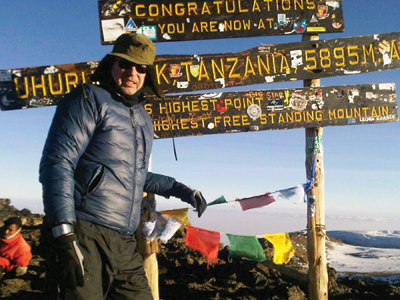 By Stan Ashbee
Sunny South News
Eric Walters is a Canadian author of 93 published novels including the popular series, "The Rule of Three."
Walters will be visiting Coaldale's R.I. Baker Middle School tomorrow afternoon to give a presentation to students, parents and guardians. There will also be a limited selection of his novels on sale, according to R.I. Baker Middle School, and Walters has offered to autograph copies of purchases made, as well as copies of his novels students may already own.
Walters will be touring Alberta with fellow Canadian author Shane Peacock. The two are touring in support of the upcoming release of their prequels to "Seven" — a series of seven-linked books by seven Canadian children's authors. The stories are connected by a grandfather's love of his seven grandsons and there are sequels and the forthcoming prequels to the original series. The authors bring their signature styles to a series of adventures that can be read in any order. The "Seven" Series Prequels will be pre-launched during the tour in Alberta.
Chatting from Peacock's kitchen in Ontario last week, the comedic duo of Walters and Peacock shared information about the upcoming tour. Peacock will be visiting other southern Alberta locations and the two authors will be hitting this year's Word On the Street in Lethbridge this Saturday.
"We're all over the place and then we come back for a three-week tour through Ontario, where there will be seven of us, all the authors. This is launching the 'Seven' Series Prequels," said Walters.
"Between us, I think we're doing 60 schools in Alberta for that two-week period plus the Word On the Street in Lethbridge and then we come back. Between the seven of us, we're doing something bizarre like 125 schools in Ontario," Walters explained. "At least in southern Ontario," Peacock added.
Walters noted the authors do different presentations based on the age and grade of students.
"We talk about our books and we talk about literacy in general. We talk about Canadian values and we do a variety of song and dance and we sing show tunes. It's pretty amazing," Walters joked.
What's special about a bunch of authors hitting the road to talk about their books and the literary world, Walters said, is each author brings something very different to the table.
"When you see one of us at a specific school, you're seeing something different," Peacock said, adding each author has a unique perspective and emphasis, which includes reading a bit more or one of the author's may share their own experiences. Peacock also noted the authors will be featured in a series of free evening performances in select locations.
"Then you get all three different styles together," Peacock said. "We enjoy it and occasionally get into a fist fight," Walters joked.
As for the prequels coming out, Walters added, Alberta gets the books first.
"The prequels come out on Sept. 20 I believe. They come out the day after we start. We made sure the publisher has sent us all kinds of copies, so they'll be hot of the press to give to the kids in Alberta," Peacock said.
Walters said book launches will happen in Ontario in October. "But we're pre-launching in Alberta," said Walters, who began writing in 1993, as a teacher.
When asked about his writing process, Walters joked he completed two chapters during the interview with the Sunny South News.
"I'm pretty continuous but quite frankly I know the alphabet, I'm not quite sure how to do a cursive 'q' anymore, so it's not that complicated," said Walters, but writing for deadline is different than writing for newspaper.
"Writing to deadline and writing for paper — that's tougher than what we do," Walters said, adding Peacock has done some newspaper and journalism work.
But what's interesting, Peacock added, is every author in the "Seven" series approaches writing differently and each book in the series has its own voice.
"We have different things we're saying. It's nice to have that combination. And that combination really shows up in the 'Seven' series, the 'Seven' sequels and the 'Seven' prequels. You get seven distinct styles," Peacock said.
Sharon Bueckert from the library at R.I. Baker Middle School said Walters will be doing a presentation for the entire school plus about 20 students have been invited from Sunnyside School.
"Walters is a Canadian author with over 90 published novels to date and several that are pending publication. His work includes a variety of books with many being based on current events or events in history. 'Safe As Houses' has facts about the big flood in eastern Canada, he has written one about 9/11, the Vietnam War, and etc. They are all fiction but have a lot of factual information in them. His series trilogy called 'The Rule of Three' has been exceptionally popular with our readers," Bueckert explained.