Stafford Lake Park's camping season a success for 2016
Posted on September 27, 2016 by Sunny South News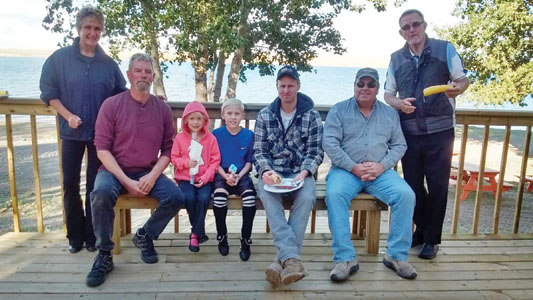 By Stan Ashbee
Sunny South News
Did you know the new and improved Stafford Lake Park just celebrated the end of its first official season with a thank you barbecue for supporters of the recreational Lethbridge County-based park and its revitalization.
Stafford Lake Park features two boat launches, three docks, swimming, a picnic area, horseshoes, tennis, a concession booth, camping, showers, 10 serviced sites and 75 un-serviced sites.
According to owner Kim Hranac, the park tried to keep it local their first season by buying lumber from Coaldale Lumber, had Rehoboth make picnic tables from the lumber, hired local kids for the concession and worked with other local businesses including Prairie Sky RV, Bill's Electric, Town and Country Locksmiths, Home Hardware and more.
During the well-attended appreciation barbecue, local sausages on buns, local corn and beverages were served to supporters that have helped bring Stafford Lake Park back to operating status but there were a few hoops to climb through.
"Of course this year, we went through several permitting processes with Lethbridge County and a public hearing in May, which gave us the opportunity to operate the park and then to have overnight RV and tent camping," she said.
Through the permit process, Hranac noted, park organizers were happy to get operating status and were happy local businesses could help out with the park's progress including the 20 locally made picnic tables on site.
This past season, aside from the weather, Hranac said she was very happy with the season and with the level of interest shown by park users.
"Not just on a daily basis for boaters and picnickers and fisherman but also the expressed interest by many families and persons, with regards to seasonal overnight RV camping, which will be in full-swing to accommodate hopefully by May 1 of next year," she added. Mid-October is the target for the park's closing date next year.
One of the strongest features of Stafford Lake Park, Hranac explained, is access to high quality water in the SMRID reservoir but also the park's proximity to urban centres including Lethbridge, Coaldale, Picture Butte and Taber.
Hranac noted when 90 campers visit the park, it creates a little community but campers are also close enough to amenities at nearby locations.
Stafford Lake Park has been in existence since 1985.
During the park's seasonal closure, Hranac hopes to get in touch with local non-profit organizations to perhaps help build up the park with play structures and a camp kitchen.
This past season, Hranac said, the park had a local water ski club come out throughout the summer. "We've also received interest from the U of L rowing club," she said, adding the club would access the reservoir for training purposes.