A salute to the Barons Fire Department
Posted on October 11, 2016 by Sunny South News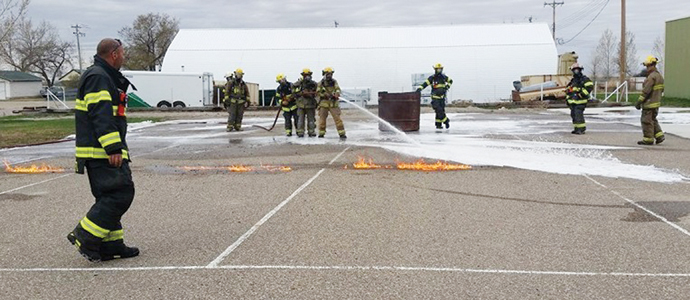 By Stan Ashbee
Sunny South News
Volunteer firefighter Lt. Sarah Moore of the Barons Fire Department has been with the department just under four years. Currently, the department has 10 active members.
"We have two EMTs, we have six MFRs and then the other two are advanced first aid," she noted.
Out of the 10 members, Moore explained, eight of the members are 10-01 Level 2 trained and at the end of October the department is hosting a 10-21 Officer course, which will be offered to the other fire departments in the county.
"Three of our officers will be taking it."
Moore said the department's most recent purchase was a command truck.
"It's been great. We utilize it because our members are a little bit more spread out. It takes away from the chief having to go directly to the fire hall to get a truck. He can just go straight to scene, instead of command, so that's perfect," Moore said.
This past year has been pretty business as usual for the department, call volume-wise.
"We started out the year quite busy and then it's kind of tapered off a little bit. But I think we've had a fairly busy year for Barons standards," she said.
The majority of the department's calls, similar to other departments in the county, are first-response medical calls.
"We're actively in talks with the county. We don't have our county contract yet. We are limited to in-town calls or mutual aid calls with neighbouring departments," she said, adding the majority of the calls, at this time, are medical in nature.
Moving forward, Moore said, the department will continue to work with Lethbridge County in getting a contract back and finish up officer courses at the department.
And, looking forward to having a successful year with community events and neighbouring departments.
As for this year's Fire Prevention Week, Moore added, it is important to have a working smoke detector and make sure to check the batteries too, every time the time changes back or forward every year.
Having a plan, is another big one too, Moore added.
"One you practice with your family," she said.