Coaldale internship working good
Posted on October 11, 2016 by Sunny South News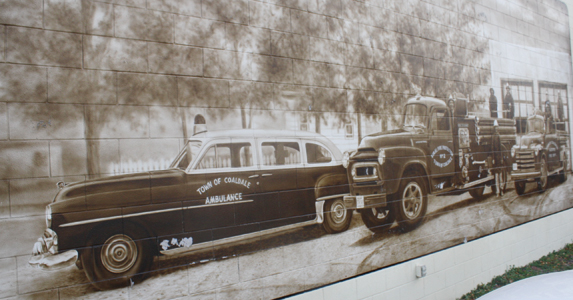 By Stan Ashbee
Sunny South News
Right now, Coaldale and District Emergency Services has 32 volunteer firefighters on its roster but is needing three additional volunteers.
"We have a staff of 35. We're actively looking for three other ones. We have a couple selected. If anyone is interested they can drop off or give us a resume and we'll consider them. Preference will be given to people that work in town for daytime response," said Interim Fire Chief Gary Gettman.
This past year was busy for the town's fire and emergency services department, Gettman explained.
"We had a big variance of calls. With last winter being a mild winter, we were down on road accidents like MVCs and that, which is a good thing," he said.
This year, Gettman added, the department has had a few grass fires to deal with but there's still a lot of fall left.
"We could have a number of grass fires yet. We're in that season now," he said.
The weather dictates a lot of how busy a department is and/or will be and what types of calls, according to Gettman.
First-response for the ambulance and Delta calls were still a big part of the department's call volume this past year.
"We spend a lot of time assisting citizens from that point too. That's still a big draw on the department. We still do a lot of assists," Gettman said.
Gettman said his transition into the position of interim fire chief has kept him busy and he has had to learn a lot. "In the transition, we're waiting to see what we're going to do for sure yet but we're still holding our own and we're still responding to the county and town citizens. Nothing has changed in the level of service. We're doing a lot of training," Gettman added.
He noted members from the department started a 10-01 Level One and Level Two class last February and members finished it in July this past summer.
"We've got many certified firefighters on the department now," he said.
Now, Gettman said, the department will be doing some breakaway training including investigation and refresher courses.
This year's focus during Fire Prevention Week is on smoke alarms and to have people check them.
"It's got a life expectancy and it's a 10-year life expectancy or lifetime on the smoke detector. Check the date on the detector for your own safety and replace them at that 10 years," Gettman said.
"It's a small investment for what it's protecting."
Recently, the Town of Coaldale started a trial internship program at the department with volunteer firefighters, as interns.
"I think it's working good. The members we've had, have done a phenomenal job. They've been able to learn a lot of the other side, other than firefighting. The administration side, some of the data entry and the inspections. They've been coming around with us, doing fire inspections and what we're looking for," he said.
Gettman noted there are six interns rotating with two interns on every day from 8 a.m. to 5 p.m. The internship program will run until the end of December.
"And then it's going to be re-evaluated to see what we're doing then," Gettman said. Gettman has been with the department since October 1988.
During Fire Prevention Week, the department will be visiting local schools to deliver fire safety messages and to hand out fire safety booklets to Grades 5-6 and there will be colouring contests for Kindergarten to Grade 3 students.
An Open House is scheduled for tomorrow at the fire hall from 4:30-8 p.m. There will be a barbecue and at 7 p.m. there will be a Jaws of Life demonstration.