Rural and Farm Safety Day a success at Jennie Emery School
Posted on October 11, 2016 by Sunny South News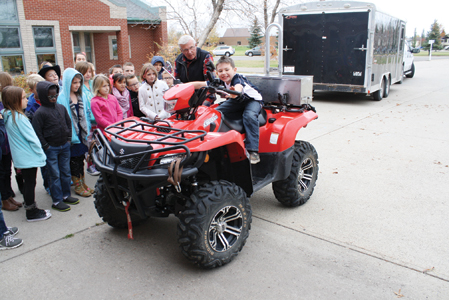 By Stan Ashbee
Sunny South News
ATV safety, water safety, large farm equipment safety, farm safety and other topics were at the forefront and covered during a local Ag For Life Rural and Farm Safety Day at Jennie Emery Elementary School in Coaldale last Wednesday morning. The half-day event was an opportunity for students to learn about how to keep safe and healthy with a wide-variety of safety-related topics delivered by local volunteers, businesses and safety experts.
"We're doing a Rural and Farm Safety Day with the kids. We feel that is important because even though a lot of these kids might not live on farms, they're visiting farms or they may live on acreages. Just giving them an understanding of different risks and hazards on the farm and making them more aware of all the different types of farming we have in Alberta," said Sarah Linde from Ag For Life last Wednesday morning.
Through stations set up throughout the school, students had a chance to learn about a plethora of rural and farm safety topics.
"We have eight different stations set up here today. We have ATV, chemical safety, fire, grain, large equipment, water, helmet safety and underground utilities," she noted, during a school recess and break at the safety day event.
A lot of Ag For Life's partners and different organizations were on hand to support the safety day including Red Cross and Alberta Health Services (AHS).
"I think the kids are having a good time,"Linde said.
According to Linde, Jennie Emery marks her seventh school this year.
"I think I'm up to about 3,000 kids right now and I've got two more next week (this week) and then we'll start again in the spring."
One of the presenters at the event, volunteer firefighter Candy Parker, visited from the Foothills Fire Department, which covers Cayley up to Heritage Pointe just on the south side of Calgary over to Longview and to Blackie, the furthest east in her area. Parker noted she comes out to many Ag For Life events and her focus is fire safety and she expresses to kids the importance of getting out of the house safely in a fire scenario.
"Too many families don't have plans on having a safe place to go — have that plan with everyone, so everyone knows to meet in the spot and then you're going to cut down on the chaos. If you practice it, it's in their heads and they're safe," Parker added.
Parker added the partnership she has made with Ag For Life is fantastic. "I think I get to at least eight schools with Ag For Life plus we do our own," she said.
Parker also brought in her gear for students to take a look at and for some to try on. "This is everything I wear when I go to a fire," she noted, as she pointed out the firefighter equipment she uses.
According to Parker, one of the questions students will ask her about is the what-ifs. "Families need to sit down and cover the what-ifs. What if my door is on fire? What if I have to go to my closet? We have to teach them not to go into the closet. We need to teach them to stand by the window and make lots of noise," Parker added.