Mmm, bacon — local cook off to WFCs
Posted on October 25, 2016 by Sunny South News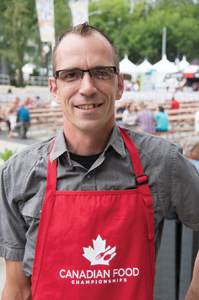 By Stan Ashbee
Sunny South News
In the words of Homer Simpson — "Mmm, bacon." It sizzles, it pops, it delivers an enticing aroma to the nose like no other when cooked and it tastes heavenly.
Canadians, thanks to back bacon lovers Bob and Doug McKenzie, embrace the bacon-loving stereotype with open salivating mouths and a fattening gut because of our unnatural patriotic love. And, the pork product is simply baconly beautiful in all its crispy, salty glory.
Curtis "bacon-guy" Christianson from Shaughnessy is competing for $100,000 in the world's largest event in food sport — the World Food Championships (WFCs) in Alabama Nov. 9-15.
Christianson qualified for the event at the Canadian Food Championships (CFCs) in Edmonton with an award-winning bacon dish. He will also be competing for a $300,000 purse and the title of 2016 World Food Champion. Christianson is part of Team Canada. There are nine different categories including barbecue, chili, dessert, sandwich, seafood, burger, steak, recipe and bacon.
"Winning my category would be an incredible feat," said Christianson, who is a truck driver by trade. "But winning the whole tournament with the best dish. That would be a dream come true."
Christianson noted it is such a blessing to even compete, as he is still new to food sport competition.
"Realistically, the WFCs is only going to be my fourth competition ever. It's amazing — it really is and a great opportunity. I'm a bit stressed out about it," he joked.
According to the bacon-tier, he loves to cook and always has.
"Last year, in 2015, Lethbridge had the Lethbridge Food Show and they held Lethbridge Chef Wars. We had some celebrity judges there from The Food Network and everything. I thought I would try my hand at that. I tried backing out of it, as it got closer because I got so nervous but my fiance wouldn't let me. We went and I competed in the amateur category and I was the only amateur there. They put me up with two cooks, with the least amount of experience, but they were still professional cooks nonetheless and I ended up winning first place," he explained.
The win really fired Christianson up and this year he wanted to compete again, however, Lethbridge didn't hold the food show.
"But, I found the Sunshine Skillet in Medicine Hat," he said, adding he won two rounds at the competition and he said he had no idea it was qualifying rounds for the CFCs in Edmonton.
"That was a nice surprise when I won first place and got my red ticket to compete in the nationals. We prepared for that, my fiance and I, and she was my sous chef at the CFCs. We went there and had a great time," he added.
In Edmonton, Christianson said, they won first place in the preliminary rounds, which he said was great.
"We took fourth in the final — the bacon category, which was awesome but it didn't push me forward to the WFCs. However, the second and third place winners couldn't make it, they couldn't compete in this category for the WFCs, so they called me and said I was next in line and on Team Canada. It was really nice that door opened up for me again," he noted.
How did bacon become Christianson's culinary specialty? "The Sunshine Skillet was a bacon qualifier for the WFCs. Going into it, I didn't know that. I just kind of took what they gave me and cooked it. That's how I fell into bacon. It's kind of funny because my first ever competition, one of the mystery ingredients was Alberta smoked bacon. I've been cooking bacon since the beginning of my food sport career," he joked. "I guess it's just fate. I'm a true Canadian. Who doesn't love bacon?"
Christianson said in the future he would like to volunteer for the Sunshine Skillet competition in the Hat.
"I don't think I'm going to compete next year. Just because, Medicine Hat and the Sunshine Skillet competition have been so great to us and they sponsored us and they've given us so much opportunity during this quest to the WFCs, I want to pay back. I want to give back to that community. I'm going to stay involved but I'm probably not going to compete," he said.
However, Christianson added, he might compete at the CFCs next year. "I'm already qualified to go there. But ultimately, in the end, my fiance and I are slowly starting up our own catering business. We're going to pursue that and eventually maybe a food truck will come. That's sort of my dream, as far as culinary aspirations go," he said, adding he definitely wants to pursue the culinary arts in his own way and will probably stay connected to the food sport community for sure. "I love it now. I'm addicted," he said.
To cheer on Christianson, follow the bacon-tier on Facebook and follow the results at worldfoodchampionships.com. There's also a good chance Christianson might be seen on TV, as the world competition event is filmed for national cable television each year. It has been seen on the A & E Network, as well as the Discovery Network.