Local students attend We Day — KAHS students learn how to help locally and globally
Posted on November 8, 2016 by Sunny South News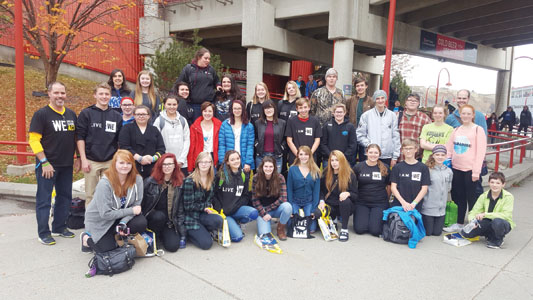 By Stan Ashbee
Sunny South News
It was Jackie Skierka's first foray going to We Day in Calgary last month.
"I never honestly realized how big of a deal it really was because I heard little things about it but nobody really expanded on it for me. When I was there I realized there's people actually acting on it, actually wanting to change different things I want to change — change different things they notice aren't right in the world," she explained.
Skierka is a Grade 12 student at Kate Andrews High School (KAHS) in Coaldale. Mike Gibson's KAHS group of We Create Change students and teachers and students and teachers from Picture Butte attended the annual event.
According to Skierka, the group has established it would like to help build a school overseas and try to raise $10,000 towards the initiative. Each year, the group decides on a global and local initiative to support.
"I think that's a really cool thing we're doing for our global and we're putting on different things for the food bank and towards the pit bull foundation and towards different things people wouldn't normally think of even and maybe not even support," she added.
Grade 10 student Shelby-Lee Stanko noted it was really great to see everybody from all over southern Alberta and all over Alberta come together to support and to get motivated together. "So we can actually have an impact on the world," she said.
With the building a school aspect of the global initiative, Stanko added, bricks can be purchased for $20.
"Hopefully build a school for people who don't actually have education. That's really important. Last year, we worked on different pillars — education, water, healthcare and stuff that's really essential for people that don't have it," she said.
Zachary Lohues, another Grade 10 student at KAHS said, it was cool to see all the people at We Day that have some of the same beliefs, as he does.
"If we all work together, we can make lives better and we can change the lives of people who maybe don't have what they need to survive," he said.
Lohues said if students involved with We Create Change and other We Day-inspired initiatives don't do something about issues around the globe — who will?
"They might not then ever get a school there, where we might be putting that school," he said.
Locally, Lohues said, if the group donates to the Coaldale Food Bank or to other local causes it helps people who might be sitting beside us who don't have enough money for food or other essentials.
Grace Martin, a Grade 9 teacher, also had a chance to attend this year's We Day Alberta.
"The enthusiasm and excitement from the kids is absolutely infectious," she said.
We Create Change, Martin explained, provides youth with independence, mastery of belonging and generosity. "Which happen to be the pillars of the FMNI Circle of Courage. As a published author and educator, I believe in self-empowerment, as the first step to creating positive change and I'm so proud of We Create Change for being able to provide that to youth," she said.
Martin added she believes there should be enough of the false claim "children are the future."
"Because empowered youth can change the world — right now, today. The We Create Change initiative provides them with those tools," said Martin.
A few local initiatives of the group include the Me to We Cafe "We Wednesdays" with lunches in November and a pit bull rescue bake sale.
The following is a newsletter Mike Gibson submitted to the Sunny South News for publication from the We Create Change group from KAHS.
We Day was back in Calgary at the Scotiabank Saddledome on Oct. 26 and for the fifth consecutive year KAHS was blessed to send an incredible 30 very-excited students and teachers to the event.
Another nice bonus this year was to be able to invite five R.I. Baker Middle School students and their teacher to accompany the students from KAHS to this amazing event.
KAHS is coming off four very successful "We Create Change" fundraising campaigns at the school — where the students, staff and community have generated over $26,000 towards local and global causes.
According to Gibson, the first We Day was held in Toronto in 2007.
Gibson added the KAHS We Create Change group is choosing for their global initiative to tackle raising enough money to build a school, in a country they will choose soon, where Free the Children works in.
"We did this initiative four years ago and were successful in raising over $10,000. Brick by brick is our motto. You need 500 bricks at $20 each to complete the task," he said. For more information on We Day or the We Create Change group at the school contact Gibson at 403-345-3383.