Remembrance film 'At What Cost' debuts
Posted on November 8, 2016 by Sunny South News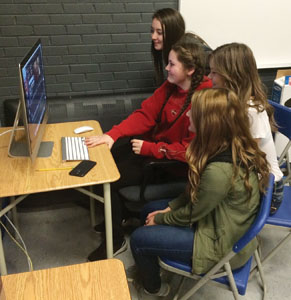 By Stan Ashbee
Sunny South News
This Remembrance Day, Picture Butte High School (PBHS) presents "At What Cost" — a short film created by Principal Mark Lowe's video/editing/photo editing media class and the school's drama department. The film is a collaboration between PBHS, Coyote Flats Pioneer Village and the University of Lethbridge to put on a Remembrance Day production.
"It's a film about what life was like when your loved ones went off to war," Lowe explained.
"It's probably the best project that's ever been done by my class in Picture Butte," he added.
Lowe noted the group chose characters based on men from Picture Butte that went off to war or families from Picture Butte with family members that went off to war.
"We've been planning on being able to showcase this at our Remembrance Day ceremony, as our prime production of the day," Lowe said, adding the ceremony will be held this Thursday.
Lowe added the school has made arrangements if the town would like to present the video at its Remembrance Day ceremony on Friday.
"If the town wants it, we're going to get it to them. We'll come out and help them do the production to make sure it works," he said.
According to Lowe, he first came up with the idea for the film around the middle of September.
"I approached the drama teacher with the idea of doing a collaboration between our two programs, so we could have our media group do the pre-and-post production and have our drama group supply the actors for the event," he said, adding the process happened quickly but took a lot of time and effort of all involved. He noted there was at least 200 hours of time put into the project.Lowe said he is extremely proud of the video/editing group, which included Grade 11 students Isabelle Ramsden, Teigen Vander Kooi, Shae Lee Sawa and Daisy Teneycke.
"They did an excellent job. When we first came up with the script I sat down with the drama teacher and we kind of hammered out a script and the girls took that script and ran with it and they made their own changes to it and they put their own flair on it. But when it came down to the final product, it was a first-class product," Lowe said.
Lowe said the U of L was a partner, primarily because it supplied the costumes.
"They gave us the costumes for an extended period of time, which we needed to do all of our shooting," he said.
There will also be a special tribute in the film, Lowe added.
"This film will be dedicated to Merle Goode. He's a local community member who was supposed to play grandpa but he ended up passing away two days before we shot our scenes and we weren't able to have him as our grandpa," he said.
Ramsden, one of the students involved in the creation of the film, said she thought the project was fun.
"I liked editing and filming everything. It was a cool experience," she noted.
"We all took equal parts in filming it and then editing it and putting the video in and just working it out," she added.
Vander Kooi said she and the other students got a new feel for the "olden days."
"Looking at the houses and seeing what was there," she said. "We all pitched in for everything."
Sawa added the project was a great experience.
"I had a lot of fun and I really liked how we got to make a movie this time, where our last project was kind of on a timeline and it was one day we had to get all the shots. But we got to go slower with this one," Sawa said.
"Everyone took part in something and we all brainstormed together to make the script and everyone threw in ideas," she added.
Teneycke said it was cool to have a project, where the students had a range of actors and could direct the film.
"Rather than doing something based on promoting something. We were able to make our own storyline and come up with all the ideas originally. They were our ideas and we were able to build on that," she said. The group previously worked on a commercial for the Town of Picture Butte.