Picture Butte to get a new postmaster Nancy Davies retires after 32 years of service
Posted on November 15, 2016 by Sunny South News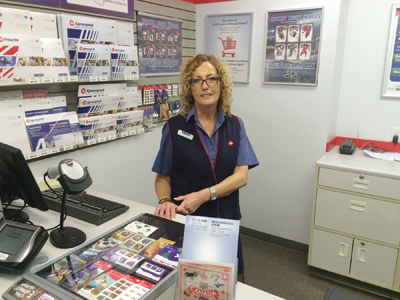 By Stan Ashbee
Sunny South News
For the past 32 years, Nancy Davies has been a part of the Picture Butte community, as residents headed to the post office to send and pick up items for business and pleasure. Davies' last day is this Friday, as she uses up her holidays, but her official first day of retirement is Dec. 1.
Davies said once she retires, she will probably do a lot of clean up around her house and travel a little bit but travelling will have to wait.
"Christmas is coming, so I won't be able to go," she joked.
According to the Picture Butte postmaster, she moved to Lethbridge about four years ago but lived in Picture Butte most of her years living in Alberta.
Historically speaking, Davies got her start at the post office back in 1984, as a casual employee.
"Then I went to part-time and then I applied for full-time and then I applied for postmaster and here I am — I'm retiring," she joked. The post office has a staff of five including Davies.
Davies noted she's happy she is retiring but is very emotional with leaving a job she's held for over three decades.
"It's part of your routine — your life. The people and all that jazz," Davies said.
Over the years, she's seen a lot of changes, not only at the post office but also in town and the post office, she added, has been a wonderful place to work.
"The people in Picture Butte are great and the staff has been phenomenal. I couldn't ask for better staff members," she added.
"I'm just happy with the whole 32 years," she joked.