Evvie the Elf gives the deets about Midnight Madness in Picture Butte
Posted on November 22, 2016 by Sunny South News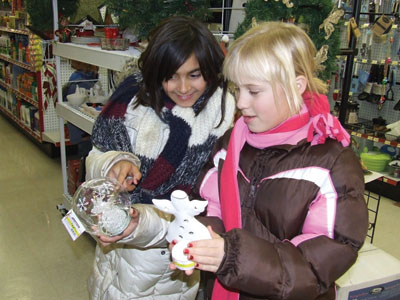 By Stan Ashbee
Sunny South News
At Christmas, Santa relies on his troupe of merry makers and toy tinkerers.
Evvie the Elf, is the Chief Elf of Operations at the North Pole. She will also be out and about on Dec. 2 in Picture Butte during the town's Midnight Madness celebrations. The Sunny South News had a chance to speak with Evvie about all things elfish and her thoughts on the Midnight Madness event, presented by the Picture Butte and District Chamber of Commerce.
Sunny South News: Evvie, how's the atmosphere up at the North Pole, while you and the big guy prepare for the night before Christmas?
Evvie the Elf: So far so good. The elves are in overdrive to make this Christmas merry and bright for kids all around the world. Of course, that could have a lot to do with the copious amounts of hot cocoa the elves guzzle down.
SSN: Would you happen to have any advice for all the boys and girls in Picture Butte that are making lists for presents and trying their very best to be nice instead of naughty?
Evvie: Keep it simple kids. Santa loves to give but only one or two items on a list helps Santa give to all the boys and girls in the world. If kids would like to get on Santa's good side, they could always find ways to help out around the house or volunteer in their community with their parents — such as at a local food bank or simply just do a good deed for someone.
SSN: What's going on in Picture Butte during the town's Midnight Madness celebrations?
Evvie: Well, a plethora or festive festivities await Picture Butte and area residents — young and old. It is the gift-giving season, so select local merchants will be open late along Highway Avenue and Jamieson Avenue. There will also be free hot dogs and hot chocolate, hayrides, skating and of course — Santa will be in town for photo ops. All the fun happens at the North County Sportsplex. Organizers have told me there will also be a 50/50 draw to benefit the Picture Butte Firefighters plus a chance to win a gift basket.
In conjunction with Midnight Madness, ATB Financial in Picture Butte hosts their annual silent auction from 6-8 p.m. on Dec. 2. Proceeds will help benefit the North County Interfaith Food Bank and the Alberta's Children's Hospital. Items have been donated by businesses in Picture Butte and the surrounding area and will be on display and available for bidding, as of yesterday.
Midnight Madness fun kicks off at 6 p.m. Kids get your picture with Santa from 6:30-8 p.m. in the foyer of the arena. Don't miss seniors' shopping in the afternoon at participating stores too. Hay rides for kids run from 6:30-7:30 p.m. Free skating from 6:30-9 p.m. Weather permitting, Webo Syrup Waffles will be on Main Street. Scotiabank will also be matching funds raised through 50/50 ticket sales of the firefighters portion.