Photography is Kok's passion
Posted on December 20, 2016 by Sunny South News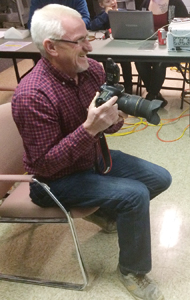 Photography is Kok's passion
By Stan Ashbee
Sunny South News
Some may know Tony Kok from Ag Employment Services in Picture Butte, but others may know him from his volunteer work and for his photography skills at many local community events. Kok has been a Canadian Food Grains Bank Picture Butte Growing Project volunteer for the past six or seven years.
"I'm on the board of the food grains bank. I kind of take care of the minutes and all that stuff and getting out the information and ordering pictures and thank you cards," he said, modestly.
Kok said he also sits on the board of directors of Coyote Flats Pioneer Village at the Prairie Tractor and Engine Museum, located just outside of Picture Butte.
"I've always been involved with the tractor club and I do a lot of their photography and work in the jail during Harvest Days and all that kind of stuff," he said, adding he's only been on the board though for the past year.
It's almost like Kok has become an extended family member for many local families in the community, as he has been a part of special occasions, local school sports games and tournaments, and celebrations including two or three school graduations a year.
"I've probably been doing that for about eight years," he said, adding he's also been taking pictures of kids with Santa at Midnight Madness for the past six or seven years.
"That's always fun. It's always nice to see the kids get all excited about a visit with Santa."
For the past 25 years or so, one of Kok's passions has been photography.
"I do weddings and anniversaries and real estate and drone photography. I have a drone and I take farm pictures and for businesses — I put together You Tube videos for them," Kok noted, adding he basically calls himself a freelance photographer.
Kok has called Picture Butte home for at least the past 29 years. "I live in town."
According to Kok, he is also involved with the Picture Butte and District Chamber of Commerce too. "I'm on the executive. It keeps me busy too," he added, as he enjoys promoting the Town of Picture Butte.
Kok said he's been at Ag Employment Services for the past nine years.
"We actually purchased the business from an existing business nine years ago. We kind of developed it a bit further," noted the entrepreneur.
"We do job placements throughout Western Canada, where our focus is. From Manitoba to British Columbia. Mainly in Alberta, but we do other provinces," he said.
Photography-wise, Kok said, he really enjoys working with people.
"It's kind of a fun thing. We usually try to have as much fun as we can when we are doing the photography. It's not just a job. I enjoy meeting people and hopefully giving them the images they like," he said, adding he wants to continue working with drone photography in the future.
"Just getting into the video end of it," he said.