Africa — worth the trip
Posted on January 3, 2017 by Sunny South News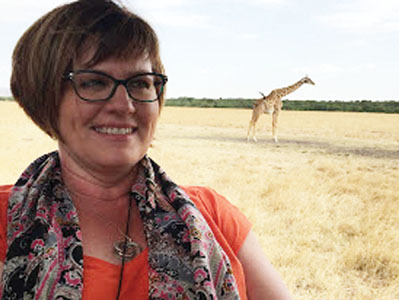 By Stan Ashbee
Sunny South News
According to Kim Abrey, cabi stands for Carol Anderson By Invitation. Abrey is a Coaldale resident, a cabi stylist and recently won a trip to Africa through the company.
She said cabi has only been in Canada for one year. "Prior to that, they've been in the United States since 2002. She's a renowned clothing designer. What she had decided to do, way back in 2002, is create a shopping experience for women they just don't get in the stores these days. What she has done is she has all of us stylists go to the U.S. and do training and she teaches us how to style women to their body types and give them a shopping experience they just don't get in the retail stores and just give them a real fashion experience," she said
According to Abrey, she visited female entrepreneurs in developing countries supported by micro-loans in the name of every new woman who starts a business with cabi.
"My sister entrepreneur is in the Philippines but my fellow cabi sister from Canada got to meet her sister entrepreneur in Rwanda. We started in Kenya and had some incredible adventures, with seeing the many wild animals including the lioness, rhinos, cheetahs, elephants, giraffes and zebras. Then we went to Rwanda and there we really got to see how our 'W.E. are cabi' program, in partnership with Opportunity International, has affected women entrepreneurs in that country," she noted.
Abrey added it was so powerful to interact with the women.
"Just knowing the history of Rwanda and what these women have come through from the genocides — that it's not just poverty, it's extreme loss," Abrey said.
"Hearing the women speak of their personal journeys and then to see how these micro-loans are helping them to start their own businesses and provide for their families and how it's impacting their communities for the better — it's really just incredibly powerful," said Abrey.
For every woman who joins the business, through the Heart of cabi Foundation or "W.E. are cabi," a woman in an undeveloped country receives a small micro-loan to start their own business, whether it's a fruit stand outside their home or making jewelery.
"Anything they can do to feed their own families. We were able to go to Rwanda and see how this is impacting their lives and how we are impacting their lives, helping them with their loan they get," she said.
Abrey said 16 women and both CEOs of the company went on the trip this past September. "It was an eye-opener."
Abrey said the Carol Anderson Heart of cabi Award is given to a stylist or a team of stylists who bring on the most new stylists in a given season.
"I won in January 2016 and had the opportunity to travel to Africa."
"I won this trip to Africa through the company and was at first apprehensive to go and went on a leap of faith knowing I would be with 15 other stylists and both CEOs of the company and know these women would be warm and loving," she added.
Abrey said the group visited two schools.
"We were able to see how they've been able to educate the children there by opening up these schools and how they've expanded the school from each time they go in. They've got what they call a trust group," she said.
"Each time they want to add on to something or need another loan to add onto it, they do," she added.
One of the women's stories is the reason why Abrey feels she needed to visit the location.
"By us shopping with her. Just from us purchasing there, I think she was able to employee another five staff members to help her in her business," Abrey said.
Closer to home, Abrey added, cabi helped women in Fort McMurray by hosting an event, where women who lost everything could come and shop for clothing for free.
"They donated thousands of dollars worth of clothing," she said.