Citizen Ken: Ken Johnson is Picture Butte's Citizen of the Year
Posted on January 10, 2017 by Sunny South News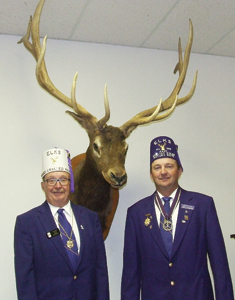 By Stan Ashbee
Sunny South News
He's been an integral part of the Picture Butte Curling Club for many years, he's been Exalted Ruler of the Picture Butte Elks and his contributions in the community are many.
Ken Johnson has been named the Picture Butte and District Chamber of Commerce's Citizen of the Year.
"If it wasn't for Ken, the curling club would probably not exist," said one of the community members who nominated Johnson.
Another community member who nominated Johnson noted any consideration given to Ken can't be done without mentioning his family, as a whole,
"His wife Joanna and their daughters Emily and Amanda are all part of the contribution Ken makes to our community year after year," stated the community member.
As a young man, the community member stated, Ken followed in his grandfather's and father's footsteps when he became involved in the Elks.
"His father served as Exalted Ruler for many years," and so has Ken.
"Service club memberships, in general, have declined over the years and the same holds true for the Elks Club in Picture Butte. This makes it more difficult for them to continue their community support, but in the case of our Elks Club, under the leadership of Ken Johnson, that support has never stopped. Ken has worked tirelessly to keep the traditions of the Elks Club alive, while maintaining the Elks Hall as an intricate part of our community," the community member explained.
Johnson, according to the community member, has also shown the same dedication to the Picture Butte Curling Club — acting as president, ice maker, scheduler, maintenance man, bonspiel organizer, negotiator, protector and whatever else is needed.
"Once again without his efforts and support of his family, the curling rink would be hard-pressed to stay in operation and probably would not be open today," the community member added.
"Ken is also part of the bigger picture of recreation, as a whole in Picture Butte and sits on the committee recommending long-range recreation activities in Picture Butte."
According to the community member, Johnson is really a throwback to a different time — a time when volunteerism was a part of everyday life, and when helping a neighbour was done because it was just the right thing to do.
"He can always be called on to lend a hand for a friend or neighbour with a problem, or to take the time to sit down for a coffee at the kitchen table and listen to a tale of woe, never asking or expecting anything in return."
"Ken has a common sense or down home attitude that is at the same time part hereditary and part self-taught — a refreshing thing in this day and age. Ken doesn't so much talk the talk, but he sure as hell walks the walk," said the community member.
Johnson, according to the community member is unselfish, persevering, has a solid work ethic, is community-minded, is a giver and not a taker, is frugal, determined, tolerant, and has a sense of humor.
He is also considerate and a good friend.
"He is long overdue to be named Citizen of the Year," said the community member.
Johnson has been a resident of Picture Butte for the past 45 years.
He has been a member of the Elks for 24 years and has been the Exhalted Ruler three times.
"I am the immediate past Exhalted Ruler," he added, which is his status as of 2017.
Johnson has been president of the Picture Butte Curling Club for about 20 years and continues as president into 2017.
Johnson said he was shocked being selected as Picture Butte's Citizen of the Year.
"I'm humbled. I was grateful for the nomination and I'm happy with the community's faith in me," he said.
This marks the first time Johnson has received official recognition for his community work over the years.
Through the Elks, Johnson noted, the group has donated to various youth projects in the community.
"Really, anything to help the community grow interests me," he said, adding he has also sat on the Picture Butte Recreation Committee for about a year and a half.
Johnson said he is trying to make the community a better place.
"I was born and raised here. My family has farmed here since 1904. It's all I've ever known and I quite enjoy living outside this small community," he said.