February is Heart Month across Canada
Posted on February 14, 2017 by Sunny South News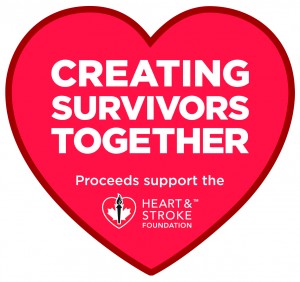 By Stan Ashbee
Sunny South News
February is Heart Month across Canada thanks to the Heart and Stroke Foundation. Stroke Month officially kicks off in June.
This month, Heart and Stroke Foundation canvassers are deployed all across the country for the month of February. "Watch for canvassers in your neighbourhood— they will be out and about collecting, but we're also doing an online campaign this year. People can go online and donate, if they're not wanting to do it at the door," said Josie Doll, area manager from the Heart and Stroke Foundation, Alberta, NWT & Nunavut.
Funds raised, as always Doll added, go to prevention through advocacy programs, the promotion or recovery and of course, research.
"Funding researchers, there's 850 researchers funded across Canada through the money raised through Heart and Stroke, through the year of fundraising. We promote recovery. We work with organizations and we distribute information on how to recover from both heart disease and stroke. Our main push is preventing the disease, so educating at a children's level through some of our programming — our Jump program and how you can eat healthy and prevent it, rather than having to go through the entire process," she noted.
Doll explained the Heart and Stroke Foundation is an advocate for healthy public policies and engages Canadians in making healthy choices, while making health last.
February is also the month of the foundation's Paper Hearts campaign, which will be running at southern Alberta Co-op stores and Mr. Lube in Lethbridge.
According to the Heart and Stroke Foundation, donors and volunteers have been fuelling medical breakthroughs for over six decades. Statistics state $1.45 billion has been invested in life-saving research since 1952 and there has been a 75 per cent decline in the heart disease and stroke death rate since 1952.
Up to 80 per cent of premature heart disease and stroke can be prevented, according to the Heart and Stroke Foundation. The foundation works with schools, communities and policy makers to promote healthier lifestyles for all.