Rebuilding the Bohne building
Posted on March 7, 2017 by Sunny South News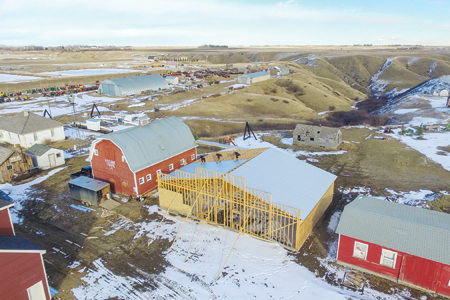 DCIM100MEDIADJI_0093.JPG
When the Bohne building burned to the ground on Sept. 18, 2015, it was a sad day at the museum. Not only had we lost a historical building from the area, but at the same time four carriages perished in the fire.
Through a generous donation from Richardson Oilseed Ltd., through their annual charity golf tournament, Coyote Flats Pioneer Village received $24,500 towards the rebuilding of the building and the 1930s horse-drawn school van.
Although the school van rebuilding is off to a slow start (the museum has found a replacement undercarriage, and are conducting further fundraising to do the actual rebuilding of the school van itself), the Bohne building is rapidly rising from the ashes.
After some soul searching, and much debate, the board of directors at the Prairie Tractor and Engine Museum approved the enlargement of the original building, which was 24 x 40 feet, to a building 40 feet deep and 50 feet wide.
The façade will be brought in-line with a number of existing buildings, so it looks right at home in an early 20th century pioneer village, yet it will have a large overhead door at the back, so it can be used for storage of carriages and tractors, plus have room left for some interpretive displays to be shown.
The design was completed by Peter Brouwer, the contractor is LCR Construction and Renovations Ltd., the overhead door is donated by Powerlift Doors and major funding from Richardson Oilseed Ltd.
The building should be ready for use by the time the museum opens to the public this summer.
For further information, to donate, or to come look at the new building, please contact the museum at 403-732-5451.