Coaldale to hold plebiscite in the fall on VLT issue
Posted on March 21, 2017 by Sunny South News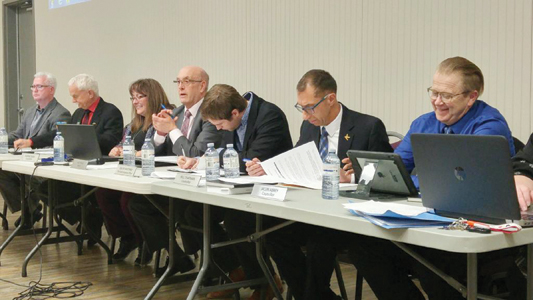 By J.W. Schnarr
For the Sunny South News
The Town of Coaldale will hold a plebiscite in the fall to decide whether or not it will allow VLTs to return to the community after nearly two decades without them. The decision was made via split vote during council's regular meeting last Monday night following a public hearing on the issue. The meeting was well-attended by community members on both sides of the debate.
In all, between 80 and 90 residents attended The Hub, a space used to facilitate the expected crowd. Mayor Kim Craig said he was pleased by the turnout.
"I commend the people who were for and against, and wanted to share their opinions, and had the courage to get up and do so."
The motion to put the VLT issue to a plebiscite was put forward by Coun. Bill Chapman. He said he has been hearing for the past two decades the best way to handle the issue, should it ever come up, would be for a plebiscite.
In the past several months, he had heard from families who have had relatives negatively affected by their VLT use.
"The consequences of VLT gaming are disasterous for some and nobody really wins," he said, referencing comments made previously by Coun. Jacen Abrey. "Except for the operators and the government."
Coun. Jack Van Rijn spoke against the plebiscite, and against the ban on VLTs overall. He noted while gambling and alcohol have similar rates of addiction, VLTs have been banned while there are four liquor stores in the town.
"Are we going to close them down because they contribute to alcoholism?" he asked. "My guess is no. Because it boils down to freedom of choice. Who are we as a community to dictate to local business concerning social and moral concerns?"
He also spoke about the fact the community has received nearly 200 grants totalling close to $5 million, all money collected by the government through its lottery fund. Those grants have gone to build many of the facilities and amenities enjoyed by the very residents seeking to keep VLTs out of the community.
"Are we living in a hypocritical community, where we say we will take your money, but don't you dare place a VLT, the source of the grant revenue, in our community."
Alan McMullen, a local resident who has experience in the service industry, said he was pleased by council's decision.
"I think council got the idea people want to vote," he said. "There were good points on both sides, and now council has seen very clearly they need to bring this to a plebiscite."
"Honestly, I came in thinking it was going to be very heated," he said.
"I know a lot of the gentlemen on the side voting 'for' VLTs, and they can be very passionate. But it was very respectful. That's an example of what Coaldale is. It's a community that respects each other. That's why I'm so much for the community, and against something that could harm that."
Ken Schmidt, who owns the Coaldale Inn, said he was confused by the decision by council to take the issue to a plebiscite when previously, council had been in support of holding a poll and making a decision based on information. "If the survey wasn't going to accomplish anything, it was a waste of time," he said. "And now they are going to spend more money for a plebiscite. That's the decision they made, so that's what we have to go with."
Craig said because the plebiscite will be tied in with the municipal election, the cost to taxpayers to pose the question would be "nominal."
"It basically dovetails in with the general election, so I don't believe there is any significant cost being incurred."
Following discussion, council passed the motion 4-2, with Van Rijn and Coun. Roger Hohm voting against. Coun. Bill Martens was absent.