Food bank wins with NCS Fill the Tractor
Posted on May 2, 2017 by Sunny South News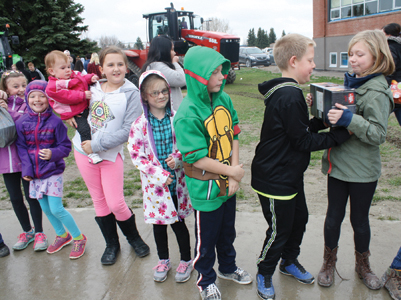 By Stan Ashbee
Sunny South News
Noble Central School's (NCS) Fill the Tractor is three years old in 2017.
According to Angela Campbell, vice-chair of the NCS Parent Council, the council asked students to bring in non-perishable food donatations.
"The class that gets the most food gets a pizza party for their class," she said.
Food donations from the community is delivered to the North County Interfaith Food Bank in Picture Butte.
"We're helping our rural communities out. There's a lot of people out there who need food. This is a great opportunity for our school to come together," she noted.
Nobleford, Picture Butte, Diamond City and Shaughnessy — there's a lot of people that can use food. "They don't need to travel to Lethbridge all the time. It's a great opportunity for our school to help other people out closer to home," said Campbell.